Open Course Teaches Journalism Basics in an Era of 'Fake News'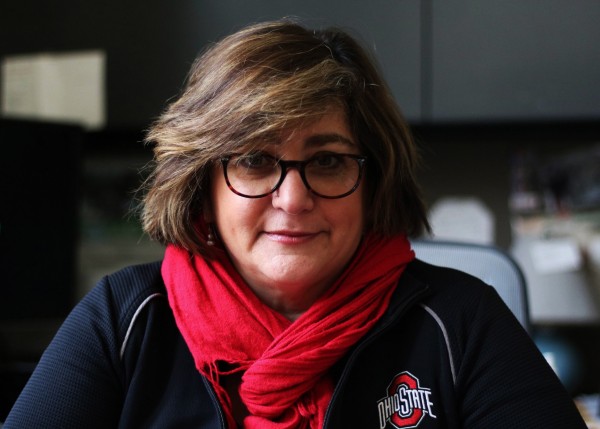 Information is meant to be shared.
It's a basic tenet of journalism, and it's also the principle that led Nicole Kraft to create the Ohio State open course Media Writing and Editing.
"Educational resources are meant to be open," said Kraft, an assistant professor for the School of Communication and author of the book Always Get the Name of the Dog: A Guide to Media Interviewing. "There's a lot of people out there – domestically and globally – who will never have an opportunity to be in an environment like ours."
Kraft first created the curriculum for the open course in 2013 for iTunes U, Apple's open education platform. A few years later, Kraft redesigned the course for inclusion in the Global One Health Initiative collection of online open courses. The collection aims to share Ohio State expertise with Global One Health partners in Ethiopia, Kenya, Tanzania, Brazil, Thailand, China, India and beyond.
With the advent of the term "fake news" in the last few years and an increase in criticism of journalists and reporters, the skills students learn in Kraft's open course have taken on new significance.
"They learn how reporting is done. They learn the basics of how reporters gather information and the basics of AP Style, the idea of presentation of facts and narrative stories in truth, … the benefits that can come from quality investigative reporting," said Kraft, who has worked in journalism for more than 20 years.
The course goes beyond written journalism, also covering the basics of journalistic photography, videography, and even podcasting.
"I think it's important to understand the building blocks that go into journalism," Kraft said. "There's a lot of training and methodology that goes into this, and the expectation of integrity. I hear from a lot of people who are international students, people who don't necessarily have free press where they are, or accountability. … Understanding all of those concepts is key to understanding why journalism is so important within the framework of democracy."
Media Writing and Editing is self-paced and is ongoing, so learners can sign up at any point via iTunes or Canvas Network and complete the modules as they have time. In addition to the course's more than 23,000 iTunes U subscribers, 2,400 people have enrolled since the course was launched in Canvas Network.