Student Voices Shape Design of Educational Spaces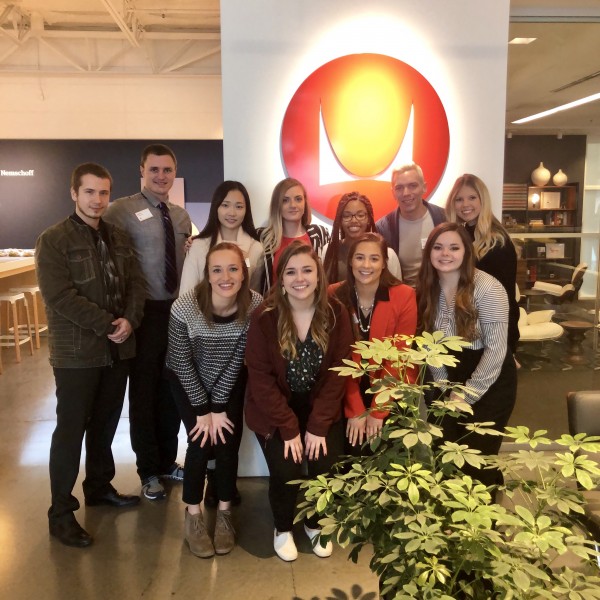 2020 Update: Join us for an Open House on Thursday, January 30, 2020 from 9 to 11 a.m. to tour the newly renovated Baker Systems Engineering Room 160, a space redesigned by Ohio State students who won last year's Big Ten Student Design Challenge.
Have you ever walked by a campus space and thought you had the perfect idea to redesign it? Student teams from across the Big Ten were given this opportunity and came back with 64 different proposals from 9 Big Ten schools.
The Big Ten Student Design challenge, hosted by the Big Ten Academic Alliance(BTAA), was designed to bring student voices into the university space design process. Each of the nine participating schools identified a space on their campus, with similar criteria, that they wanted students to redesign. Teams of three to four students were tasked with redesigning the space, including paint, furnishings and lighting.
Rebekah Matheny, an assistant professor in The Ohio State University Department of Design, organized and led a few groups of students at Ohio State who were interested in the competition.
"In our curriculum, we encourage students to listen to what people are saying and feeling about design," said Matheny. I think that there has been a change in practice recently, especially in educational spaces, that people are becoming more attuned to being open and listening to younger generations perspective on things. We can research as much as we want on a generation, but until we actually design with them, we are just designing for them. By creating a participatory process and engaging the end user, you end up with a better result."
A common theme in the designs across teams included balancing both work and relaxation areas, but with a small separation through strategic placement of furniture. Another important factor seemed to be the incorporation of natural light, warmth or small plants to connect the décor to nature. 
While their task was the same, each space added different challenges and advantages.
"The complexity of different spaces and different designs made it really challenging," noted Julianna Olsen of Indiana University.
"Knowing you have control not only in how a space looks, but how people act in a space I think is very important," said Kelia Todd, an interior design major from Ohio State participating in the competition.
Each of the nine participating universities identified a winning team locally, and that team went on to a national competition. The pool of nine was judged by representatives of all universities as well as BTAA and Herman Miller and then narrowed down to the top three teams. Those three teams traveled to Herman Miller headquarters in Michigan to pitch their designs to a team of academics and professionals, receive feedback on those designs, and then polish their proposals and present again. All of this occurred over the course of a dynamic and fast paced two-day workshop.
Susan Whitmer, lead researcher for education at Herman Miller, was thrilled to be a part of this experience to engage with and give exposure to students in a professional design setting.
"They (students) are developing, from their point of view, the solution and presenting it to us. We give them feedback, and then we're interested to see what they do with the feedback and how it really helps them along their journey of coming up with a solution. That's what learning is about."
The competition all came down to the final pitch, and this summer Ohio State will be seeing a brand new, student-built space on their Columbus campus.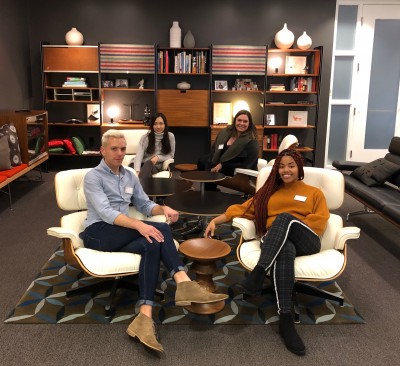 The judges decided that the design of Kelia Todd, Tyler Hatton and Haemin Park was the most cohesive and well thought out, their space focusing on three main concepts: collaboration, relaxation and concentration. These students will continue to work with Herman Miller in different steps of the construction phase throughout the next few months. After the winning space is completed, Ohio State will be able to actually use the space. The goal moving forward is to conduct research on how students interact with the space and to measure the effectiveness of and satisfaction with that space and how it impacts their learning.
"We know that the world that we live in is changing really rapidly and students, when they graduate from college, need to have expertise in the disciplines they're studying, but also need to be able to work with each other, pitch their ideas, identify problems, and think about ways to solve those problems. And I think the design challenge is an opportunity to really engage all of those things. It prepares them for the world they will live and work in after graduation" Liv Gjestvang, Associate Vice President of Learning Technology at Ohio State.