High Schoolers Learn from Open Course on the Science of Cancer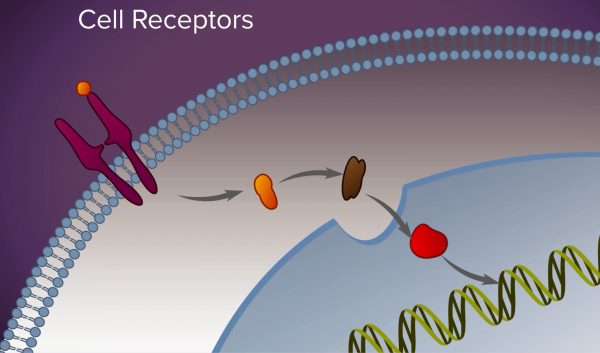 In a school just outside Akron, Ohio, groups of teenagers are teaching each other about the basics of cancer. It's a few days before winter break at Bio-Med Science Academy in Rootstown, and the students are wrapping up a three-week elective course on cancer – its causes, treatment, research, prevention and the human impact of the disease.
Their teacher, cancer survivor Marisa Rickel, relied on materials from The Ohio State University's online open course Introduction to the Science of Cancer for her class's foundation.
"I think it's a really good opportunity for people to understand something that's very hard to understand from a source that people respect and trust," Rickel said. "It was all there, and it was exactly what I needed for a perfect point in time. As a high school teacher, you're always looking for ways to enrich your kids' lives."
Course creator and instructor Darrell Ward, who recently retired as associate director for cancer communications at The Ohio State University Comprehensive Cancer Center – James Cancer Hospital and Solove Research Institute (OSUCCC – James), visited the class during the first week to discuss how the open course came to be and also to talk about his job. With the school's STEM focus, many students are interested in careers in the medical field.
Filling a Need
Two things inspired Ward to create the open course – a need and a gift. The need, Ward said, was one he saw for himself during visits to Zimbabwe as president of the non-profit group Better Healthcare for Africa.
"Cancer care, because it's expensive, requires infrastructure, requires equipment and expertise," Ward said. "Not only that, but in developing countries they're also dealing with a high rate of infectious diseases such as malaria, HIV and tuberculosis that often absorb a lot of the healthcare budget. So diseases like cancer are almost an afterthought sometimes."
After the non-profit started a cervical cancer prevention project, Ward realized that healthcare providers in Zimbabwe were up against an additional challenge: There was a cultural stigma associated with cancer.
"I thought if the nurses, midwives, high school teachers and reporters – influencers – could have a better way to understand cancer, it could relieve suffering. We could help them understand the causes and treatment," Ward said. "If government ministers understood cancer, that might lead to a higher priority for cancer funding."
But Ward's plan for how to help them understand resulted from a Christmas gift. In 2013, his wife gave him an iPad. In exploring how to use the device for education, Ward took workshops with ODEE where he learned about Massive Online Open Courses (MOOCs). He already had an outline for a book explaining cancer – similar to an explainer-style book he wrote on AIDS in the 1990s – but he immediately recognized the potential to reach a wider audience if he changed formats.
Ohio State introduced its first Massive Open Online Course, or MOOC, in 2012. Since then, its offerings have reached more than 1 million individuals in nearly 150 countries. The university has published around 20 open online courses, with several more in development.
"All of them are affected by cancer in one way or another. A lot of the kids had heard some of these terms before, but they didn't understand what they mean and they were afraid to ask questions." — Marisa Rickel
"Open courses not only give faculty and staff the opportunity to share their expertise with learners around the world, but also give learners the opportunity to share how the concepts and materials fit into their own culture and lives," said Tom Evans, Ohio State's open learning manager. "The interactions of learners from other areas and backgrounds often provide a rich and diverse learning experience for all that fully engage in the course."
Ward worked with 35 oncologists from the OSUCCC – James to develop the course, which is part of the university's Global One Health Initiative. Since it was launched, over 17,000 people have enrolled in the course via the platforms Coursera and Canvas Network.
From the Web to the Classroom
At Ohio State's 2016 Innovate conference, Ward presented alongside Evans and an Advanced Placement biology teacher who used the course as part of his class. In the audience that day was Rickel. As both a cancer survivor and a teacher, she immediately recognized the potential to make a connection.
During her freshman year of college, Rickel started feeling sick. In January 2010 she was diagnosed with acute lymphoblastic leukemia. After treatment with chemotherapy put her into remission, she completed her teaching degree. Rickel has remained connected with the cancer community and knew the class would be meaningful for her students. Statistics from the National Institute for Health show that almost 40 percent of American adults will be diagnosed with cancer at some point in their lifetime, so chances are high all of her students have experience with the disease.
"All of them are affected by cancer in one way or another," Rickel said. "A lot of the kids had heard some of these terms before, but they didn't understand what they mean and they were afraid to ask questions."
The open course gave her the opportunity to create that allowed that type of exploration.
"As a teacher, it's so hard to find materials to use that I can bring into the classroom from a university that are at a high school student level," she said. "Everything was there and in order. It allowed me to be creative with the ways I taught it instead of having to piece if together."
Rickel spent the first week walking through the introduction module with her students. Then the class split into four groups, each of which was assigned one of the other course modules. The teens worked through the course materials, did additional research, and then, during the third week of the course, each group was responsible for teaching that content to the rest of the class.
"They took turns speaking throughout their presentation and I made it mandatory that they had to have an interactive piece like an online quiz, crossword puzzle or word search," Rickel said, adding that vocabulary was a big part of the course.
Finally, she brought in another guest speaker to help put a human face on the science they'd been studying.
"I had a second guest speaker come to class – another survivor friend of mine who had a terminal brain tumor and recently relapsed," Rickel said "Hearing from the survivor side of it allowed them to empathize with someone."
Rickel's course wrapped up right before the winter break, and she considers it a success.
"I think a lot of kids got out of it exactly what they needed, which was how to understand what they're going through in their personal lives, as well."
As a new retiree, Ward plans to continue working to improve the online cancer course for the OSUCCC – James, and to use course videos for cancer education at hospitals in Zimbabwe through Better Healthcare for Africa and in high schools right here in Ohio.