Online Training Shapes Professor's Teaching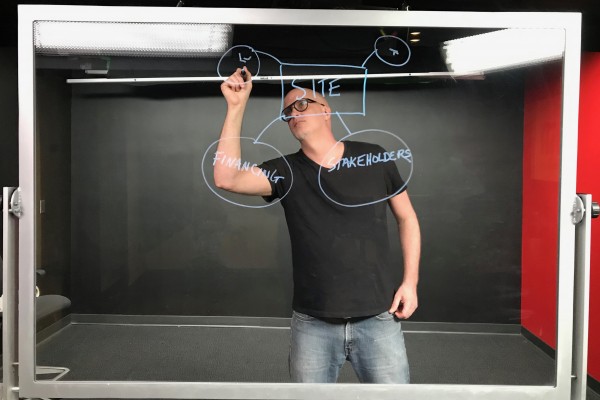 Three weeks changed everything for Kyle Ezell.
After taking a workshop hosted by the Office of Distance Education and eLearning, Ezell completely revamped his course on land development planning for The Ohio State University's City and Regional Planning program in the Knowlton School of Architecture.
The class was intended to be traditional and in-person, but Ezell revised it to be more of a blending between online and in-person. He's "flipping the classroom," delivering lectures and readings to students online asynchronously and using in-class time for activities and active learning.
"I didn't realize the potential of online learning, and – this was the hard part for me to believe – that if executed with care it has the potential to be equally or more effective for students," Ezell said. "This semester and over the next year, I am exploring tools and methods that may improve the outcomes of student learning."
Online Course Delivery Basics, a workshop hosted by ODEE from October 22 through November 9, 2018, was aimed at helping instructors become better online teachers.
The twist? It was offered fully – and solely – online in CarmenCanvas, the same platform those instructors must use to teach online Ohio State courses. This time, though, instructors were on the other side of the screen, and for many of them that was a completely new experience.
"I had never taken any online classes," said Ezell, who earned his bachelor and master's degrees in the '90s. "I looked down on it. I thought it wasn't a legitimate teaching and learning method, and it appears that I was wrong."
Ezell's first introduction to online education was the Michael V. Drake Institute for Teaching and Learning's Teaching@OhioState, which impressed him as an example of online, asynchronous – and effective – learning. He enjoyed it so much that he sought out other, similar opportunities, such as Online Course Delivery Basics.
The three-week workshop focuses on learning theory to help instructors understand how to reach students.
"I had never taken any online classes. I looked down on it. I thought it wasn't a legitimate teaching and learning method, and it appears that I was wrong." 
— Kyle Ezell, professor of city and regional planning
"These teaching strategies discussed in the training help foster engagement among students and between students and the content," said Marcia Ham, who led the training. "It's also a low stakes arena for (instructors) to try things out. If they've always wanted to know how the conferences tool (in Carmen) works, this is the time to try."
Participants were challenged to create a video welcome announcement for their course, which itself was a hurdle for some, including Ezell.
"Marcia helped me find my video voice," Ezell said. "Even though I'm a professor, I'm shy and overly worried about my on-camera persona. But with the video aspect of online learning, making yourself seen over the internet is a key to creating the feeling of community and connectedness. She helped me figure out how to let go of my inhibitions. I can look and sound professional and make a video that students appreciate."
Ezell's main takeaway was how to make his classes more student-centered. "Professors can either make themselves the center or make students the center," Ezell said. "In online learning, the students are automatically the center. The professor has to make sure that they learn individually and make sure that they feel engaged."
Those interested in learning more can explore ODEE's professional development workshops, such as Keys to Successful Online Teaching, scheduled for 9 a.m.-noon February 13, 2019.