Affordable Learning Exchange Funds 20 New Projects in 2018-2019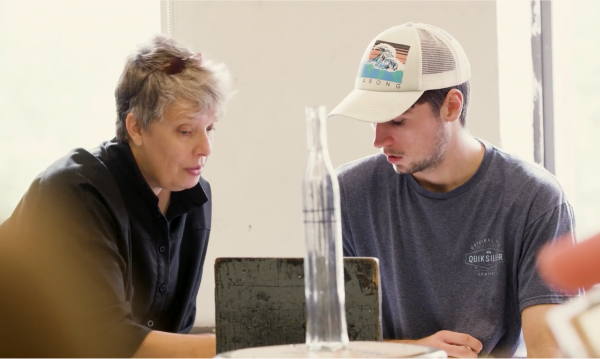 The Affordable Learning Exchange (ALX) has selected 20 grant recipients that will complete projects during the 2018-2019 academic year. The projects cover a wide range of academic areas like: Mechanical Engineering, Design, Foreign Languages, Communications, Mathematics, Art and many more. The projects are focused on developing a variety of tools like digital textbooks, online memberships, informational videos and original course content. These valuable tools will transform the way that teachers create and conduct their courses, while creating an affordable experience for students. It's estimated that these grants will save students over $350,000!
Elvia Andia-Grageda - Spanish and Portuguese
This project will create a textbook that includes the three main variants of Quechua, while promoting a rich multimedia experience to support engaged student learning. 
Amanda Berrian - College of Veterinary Medicine
Dr. Berrian will replace a traditional textbook with a series of case studies created by using Open Eductational Resources (OER), which will provide a problem-based, experiential learning experience for students.
Vanja Bogicevic - Education and Human Ecology
Professor Bogicevic intends to replace the four required textbooks, as well as the subscription-based membership in the Association for the Healthcare Environments with a robust online course including original scripts, case studies, and compiled online readings.  
Danielle Fosler-Lussier - Music
Fosler-Lussier is proposing a replacement of two expensive and dated textbooks with a digital compilation of openly licensed and library-managed scores and recordings. The transformed course will employ iPads, which will allow students to annotate scores and enjoy a more engaging learning experience.
Elena Foulis - Spanish and Portuguese
Elena Foulis will prepare a Pressbook based on OER material, which will act as the primary text in a new course for heritage speakers, an often-overlooked series of courses that will focus on students' common experiences.
Leah Herner-Patnode - Education and Human Ecology (Lima)
This project involves the compilation of a new course text, including openly licensed and library materials. A course redesign will ensure that students are experiencing a cohesive and well-organized semester tailored to the new material. 
Nongnuch Inpanbutr - College of Veterinary Medicine
Dr. Inpanbutr will create a series of videos on canine dissection and anatomical structures. These videos, combined with digital illustrations and original quizzing, will replace a collection of costly learning materials.
Lauren Jones - Education and Human Ecology
As the course moves toward a hybrid in-person and online delivery, Dr. Jones will avoid the adoption of a conventional textbook in favor of fully open learning materials. This new learning experience will be employed across many sections led by many instructors.
Nicole Kraft - Communications
Dr. Kraft will author a new Pressbook on writing features for newspapers, magazines and websites. This book will be used not only in the Feature Writing course, but in other relevant journalism and communication courses. 
Jacquelyn Meshelemiah - Social Work
Dr. Meshelemiah will replace the current textbook with an original Pressbook. This book will be featured in a newly redesigned course based around OER and original faculty-produced content.
Aimee Moore - Knowlton School of Architecture
Dr. Moore will author a new digital book to replace the two books assigned for her course. This book will not only be free for students, but will be better tailored to the unique crossover between Architecture and Landscape Architecture courses that it serves. 
Dr. Nicol plans to convert an iBook into a Pressbook, which will provide access to a larger number of students. Additionally, she plans to develop a series of videos on insect biology. 
Robert Pancoast - Mechanical Engineering
Dr. Pancoast intends to facilitate a lending library of Raspberry Pis in order to support the mechanical engineering capstone projects of seniors in the department. These tools allow students to improve their programming skills and hardware comprehension.
Brian Partido - College of Dentistry
Dr. Partido intends to implement a series of assignments where groups author book chapters. The completed digital book will then be used in future sections of the course. 
Virginia Tompkins - Psychology (Lima)
Dr. Tompkins will be replacing a conventional textbook with a compilation of open and library materials, including an open textbook, podcasts in the public domain, and articles from academic and open journals. 
Michael Tychonievich - Mathematics
Dr. Tychonievich will author a new textbook that entails basic use of R to solve example problems through programming. The book will be used in conjunction with an open textbook. Together, these two elements will allow students to experience learning with technology integrated into the learning process. 
Gloria Torrini-Roblin - French
Dr. Torrini-Roblin will replace a series of learning materials including a textbook with an original course packet that will be available to students at cost of printing. The new workbook will be designed in conjunction with the carmen course, and will combine lessons with space to work, and will provide an updated and cohesive learning experience.
Mary Anne Beecher - Design
Mary Anne Beecher, the Design Department Chair, will create a digital timeline that will replace a conventional textbook in a course that is moving to an online delivery format. 
Sébastien Proulx - Design
Dr. Proulx will redesign the research portion of students' capstone project, which will result in the creation of a digital newspaper supported by Wordpress. The live nature of the site will allow students to more easily update over the duration of their project, as well as support the inclusion of a wider range of materials. 
Picking up where she left off with last year's lending library project, Deborah Scott will implement a supply check out system and create new kits for each student in the drawing program. Students will no longer have to buy costly materials for their courses. 
Beecher, Proulx and Scott are not new to the ALX grant program, as they worked on projects last year within the Departments of Art and Design. In 2019, they will be expanding on their previous work: 

ALX is a cross-campus partnership between University Libraries, the Office of Distance Education and eLearning, Undergraduate Student Government, the Office of Academic Affairs and the University Center for the Advancement of Teaching. ALX funds and supports instructors who want to replace their conventional (and sometimes, costly) course materials with open educational resources or other low-cost alternatives. In doing so, students not only save money, but in many cases, instructors also create custom course content and transform the teaching and learning experience in their classrooms.