2018 Update: The Ohio State App and Discover App
It has been a big year for the Ohio State app; we've added buses, medical center shuttles, new parking features and much more. 
In January 2018, the development team went to Cupertino, California to work with Apple and Digital Flagship to create an app that would help incoming students navigate campus resources, get involved and plan their time at Ohio State. All that, from idea to production, in 16 weeks. 
Here's a taste of what we've been up to. 
The Ohio State App

This year we've seen usage grow by leaps and bounds. On the first day of class alone, we saw 54,000 users; an increase of more than 10,000 users over the first day of class in 2017. 
This increase is a result of our efforts to refine our design and delivery for the new generation of students, update the apps with the latest tools and technologies, and combine all of that with better communication across the board. It is also due, in no small part, to contributions from our partners in Student Life, TTM, FYE, and many others.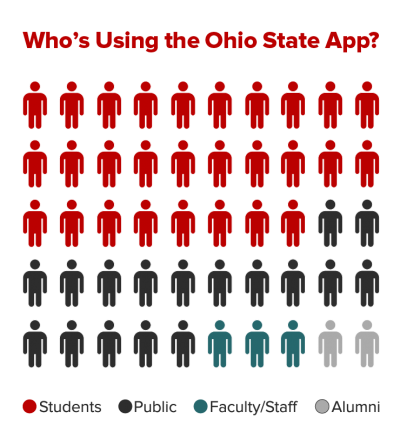 Our Users
Of our 86,000 monthly users, the largest group is the 54,000 students that sign in. These undergraduate and graduate students sign in to see things like their schedule, Carmen grades and BuckID balances.
The next largest group are the 24,000 users that do not sign in because they only want to use public services such as finding buildings, looking up dining menus or using the CABS system.  
Faculty, staff and alumni make up the remainder.
What's popular in the app?
Listed below are the top five screens within the Ohio State App, of the more than 130 total possible screens. For the past four years we've tracked usage and engagement on these screens. 
Using that data in conjunction with our Marketing and Communications team, we continue to design the entire Ohio State app to be more discoverable and highlight services that are key to the student experience. 
About You: 18,015,135
Classes Weekly View: 10,510,284
Busses: 7,934,391
Campus (Home): 3,895,447
Building Details: 2,809,394
What's new in the app?
Technology is constantly evolving and so are we. We're always trying new things to keep the app engaging and to provide more value for our users. 
Here are some of the new features we've implemented in FY18:
Flyover drone videos of campus
Face ID inside the Ohio State app
Walking directions with Apple Watch integration
Parking improvements including Apple Watch integration
Bus improvements including Apple Watch integration
Addition of Double Map OSUMC Shuttles
Addition of several safety resources
SEIs moved from PeopleSoft to Blue with no student impact
Canvas Services rewrite to improve performance
Android app brought up to match iOS
... and many more improvements focused on the look and feel.
iPads, Androids and iPhones, Oh My!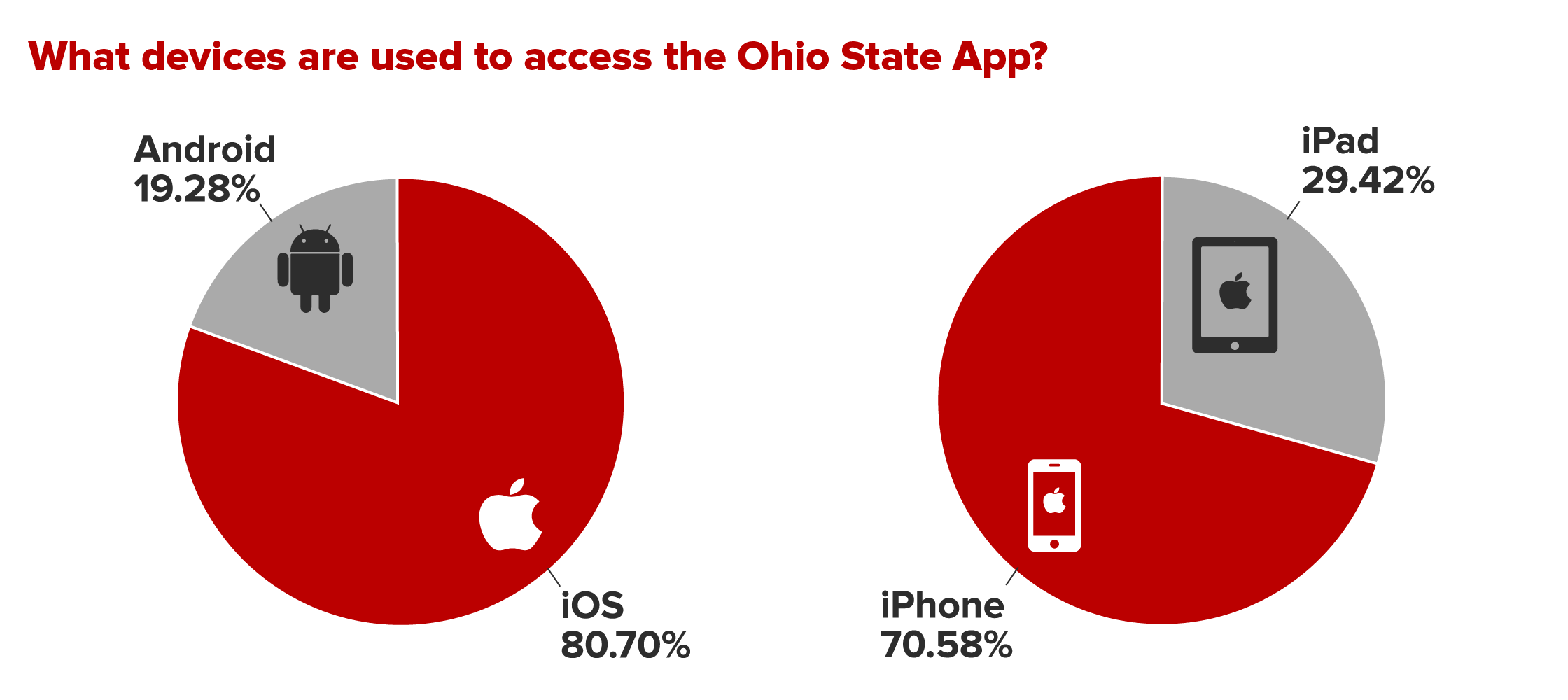 Similar to our data from 2017, more than 80% of users access the Ohio State app from an iOS device. Of those, nearly 30% visit from iPad, a jump from 8% in 2017. This increase is largely attributed to Digital Flagship iPads in the hands of first-year students.
Digital Flagship and the Ohio State: Discover App
A New App for Ohio State Students
One of our core beliefs is that the Ohio State app should have the same level of user experience as a top-tier app from Apple, Facebook, Instagram or Google.
To accomplish this, we've taken inspiration from the native implementations in iOS and Android and created similar experiences in the Ohio State app, helping users feel like they're at home. We've continued this tradition of creating a delightful and awesome experience in the Ohio State: Discover app.
This app was created in collaboration with Apple designers and developers in Cupertino. After a three-day design session, we returned to Columbus and began the work of creating an iPad-ready app by the start of orientation. 
Ohio State: Discover is only available on iPad, but the functionality of the app will continue to be incorporated into the Ohio State app on iPhone and Android.
Check out a video about the creation of the Ohio State: Discover app. 
For You

The first major feature of the Discover app is 'For You.' This section includes personalized, regularly updated information that connects students to resources that matter to them, making a big university feel manageable. 

We based this on one guiding principle: the content is required to be relevant, timely, critical to a student's mission (academic, financial, physical health, mental health, etc.) and above all, actionable.
Get Involved
'Get Involved' was the surprise feature out of the Discover app. 'Get Involved' has had over 60,000 screen views and students went on to visit student organization sites over 10,000 times.
The most popular student organizations to visit? 
BuckeyeThon, Block O and 4 Paws 4 Ability at Ohio State were the top three this summer.
Course Planner
The 'Course Planner' was specifically requested by the students in Cupertino, and has had about 40,000 screen views this summer. The feature was developed to provide students the tools they need to communicate their academic plan.
What's coming next?
We're currently focusing on iOS 12 and exploring a lot of features that will change how students interact with the university as well as gearing up for the next round of app design in Cupertino with the Digital Flagship project.
A few items on our roadmap:
Push notifications on waitlist changes
Push notifications on statement of account changes
Reservable library and study rooms at Thompson or the 18th Avenue Library
Have your parking garage QR Code within the Ohio State App. Forgot your pass? No problem.
Siri integration with the Ohio State App. "Siri, where is my next class?"
Augmented Reality navigation. Hold up your camera towards buildings on campus and see the buildings with your classes highlighted with walking directions.
A special thank you to the developers on the OCIO Web & Mobile team as well as all of the teams around campus which have made this year possible: Undergraduate Student Government, First Year Experience, Student Life, Libraries, The Ohio Staters, Administration and Planning, Transportation and Traffic Management, the Bursar's Office, the Registrar's Office and many others.