Online Learning for a Career in SNAP-Ed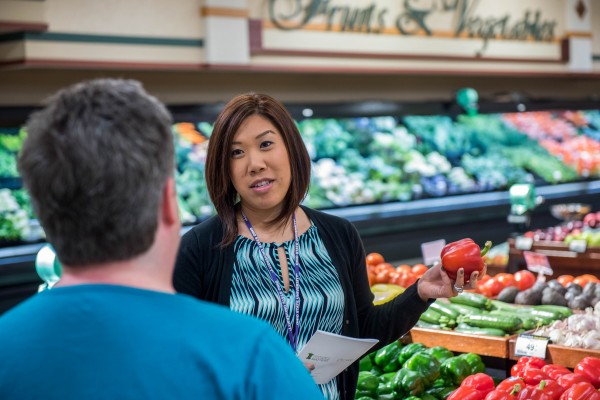 The Supplemental Nutrition Assistance Program (SNAP), formerly named Food Stamps, has been the focus of debates regarding welfare program funding and related policy decisions. What doesn't emerge as often is the topic of SNAP-Ed: the education arm of the program.
SNAP-Ed promotes educational programming to SNAP-eligible families, empowering them with knowledge on nutrition as well as how to stretch their food dollars further. An evidence-based program, SNAP-Ed is shown to enhance the effectiveness of the overall SNAP program.
For Jenna Haaser, a program assistant with SNAP-Ed, the best part of this work is the incorporation of food demonstrations with nutrition education.
"It's one thing to talk to a SNAP participant about eating whole grains," she said. "It's another to cook a meal together, make whole grain french toast and hear them say 'This is amazing, I could eat this all the time!'"
SNAP-Ed staff aren't just teachers: they're community builders. Haaser notices how participants in a neighborhood know their SNAP program assistant's names when they see them out and about. As a SNAP Educator, it's not uncommon to do your grocery shopping and be approached by a SNAP-Ed participant, proud to show off the selections in their cart.
Haaser is also a student in The Ohio State University's online Master of Science in Agricultural and Extension Education program. In addition to context for the issues in her typical workday, the degree program connects her to other SNAP-Ed professionals across the state.
"I've had the pleasure of working with SNAP-Ed professionals in both an academic and professional capacity now," she said. "Having the opportunity to connect with them as scholars has been a real bolster to towards my graduate project. I'm inspired to see how they're bringing Extension Education into their professional lives."
SNAP-Ed professionals believe deeply in the value of the program, and they put their passions to work in many different forms. Amanda Rysz, also a student in the online MS program, is a program specialist with Family and Consumer Sciences at Ohio State University Extension. She works to provide training and professional development opportunities to the SNAP-Ed program staff across the state. She decided to enroll in Ohio State's online Master of Science in Agricultural and Extension Education to get an even deeper understanding of the big picture of extension, agriculture education, communication, and how SNAP-Ed fits into the picture.
"Learning the history behind the different pieces of Agricultural Education legislation that have been passed has helped open my eyes to the political struggle that continues regarding funding for different agricultural programs," Rysz said. "It's been easier to see the historical relevance of SNAP-Ed and how it led us to where we are today, educating the public about evidence-based nutrition."
Rysz is using this deeper understanding to inform her work and position SNAP to thrive in the future.
"Now that I'm in these classes, it's been easier for me to understand where some of the common misconceptions about SNAP and SNAP-Ed come from," she said. "What's important in my work is that we focus on conveying factual information in a way people can relate to."
To help convey a picture of SNAP that represents the program accurately, Rysz shares facts and figures, as well as testimony from SNAP participants.
"We must continue to advocate to legislators and the public about the positive impacts our program is making in communities across Ohio. When SNAP participants see the benefits and talk about their success stories, it goes a long way."
Passionate SNAP-Ed employees like Haaser and Rysz are investing in their education to advance themselves, as well as the future of SNAP-Ed. If you're interested in a passion-fueled career, consider Ohio State's online Master of Science in Agricultural and Extension Education program. Complete this form to connect with a counselor.