Three Ohio State Podcasts to Treat Your Ears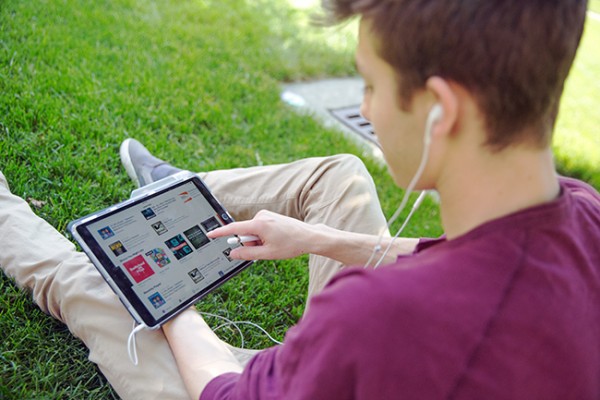 With International Podcast Day on September 30, we thought it would be fun to share a few of the many insightful podcasts created by Ohio State faculty, staff and students. Take a listen to the podcasts we've highlighted below or check out the rest of Ohio State's podcasts on Apple Podcasts at go.osu.edu/OSUpodcasts and share your favorites using #InternationalPodcastDay.
Biobased Radio
Apple Podcasts | Google Play | Stitcher
Biobased Radio is a new podcast from the Ohio Bioproducts Innovation Center that aims to promote a more sustainable future through conversations with influential figures within the bioeconomy field. A recent episode features an interview with Brad Rogers, a senior manager at PepsiCo. He touches on how the parent company of Pepsi, Frito-Lay, Tropicana, Gatorade and Quaker is taking strides to produce their products more sustainably. Tune-in to learn about what bioproducts are, how they're made, and how everything from your chip bag to the fuel you put in your car can be biobased.
Manufacturing Tomorrow
Apple Podcasts |Google Play | Stitcher
How are robotics and additive manufacturing disrupting traditional processes? What skills do the current workforce need to acquire as new technologies are introduced? How close are we to a future with flying cars? Manufacturing Tomorrow host Kathryn Kelley, executive director of the Ohio Manufacturing Institute addressed all these questions during a recent episode featuring Bronson Jones, CEO and owner of Banner Metals group, a small metal fabrication manufacturer. Kelley's guests are the unsung heroes of advanced manufacturing, from company C-suite executives and engineers to industry-facing academicians and government leaders. Each guest talks about the work they do that helps create the products and processes that impact us.
Agronomy and Farm Management
Apple Podcasts | Google Play | Stitcher
You don't have to be a farmer to enjoy Agronomy and Farm Management, a podcast from Ohio State University Extension. Learn about cutting-edge agricultural technology and research and up-to-date information on the economics of managing a farm. Farmers can gain insights into how to increase yields and improve their bottom line – and the rest of us can enjoy hearing about about multi-hybrid planting and that Ohio State logo corn field was created.
These are just a few Ohio State-produced podcasts. To find your new favorite podcast, remember to check out go.osu.edu/OSUpodcasts.