Applications Open: 2018/2019 Educator Cohorts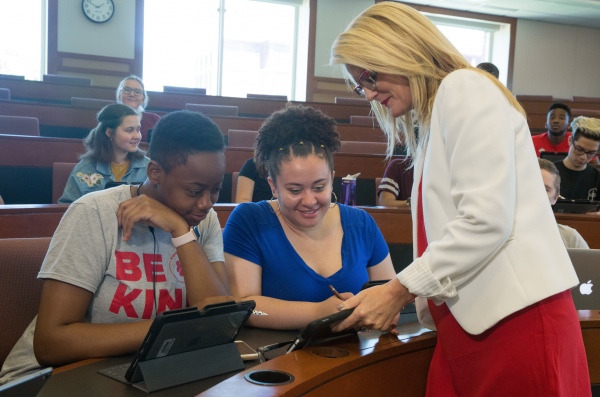 *UPDATE* Fall 2018 educator's cohort applications have closed, but a variety of opportunities will be available in 2019. Don't miss a beat, sign up to receive email notifications when new educator opportunities are announced.
Do you want to integrate mobile technology into your general education course? Are you interested in helping your students engage with course materials and build digital literacy skills?
During the 2018/2019 academic year, Digital Flagship is offering two educator cohorts, one in fall and one in spring, to help instructors teaching 1000- and 2000-level courses use technology in meaningful ways in their classrooms. 
Instructors and graduate teaching assistants participating in Digital Flagship Educator cohorts receive the same technology kit as students, along with training around best practices and technology integration. The goal of our Digital Flagship Educators programming is to enable excellent teaching that incorporates active learning, student-centered course design and digital literacy development. 
Applications are currently open and will close at 11:59 p.m. on Sunday, September 16.
Cohort Schedule and Format
Cohorts will run for five weeks, with each group meeting weekly for two hours weekly at a regularly scheduled time. One five-week session will occur in autumn, the other in spring semester. Instructors may indicate their availability on the application and if accepted will be assigned to groups that work with their schedules. For example, of the participants in the spring cohort, three or four sub-groups may be created, each meeting on a different day and time of the week.
Cohorts operate in a flipped format; passive learning occurs outside of meetings and in-person "class" time is used for activities, discussion and hands-on support. You will be assigned content each week that must be completed before attending class. Out-of-class time totals roughly 60 minutes of work per week.
iPad-Enhanced Course Sections
Each instructor participating in a cohort may elect to have one of their course sections designated as "iPad-required" in the following academic year.  This designation allows instructors to plan activities and assignments with an established knowledge of student tools and centralized resources to support their skill development.
For each iPad section, there must be sufficient alternative sections without the device requirement in order to meet the educational needs of all students. Courses without sufficient alternative sections will not be labeled "iPad-Required".
Departmental Approval and Support
It is vital that the instructors home department approves of your participation. Please touch base with your department before applying. This will be asked on the application and confirmed through the acceptance process.
Interested in learning more about the Digital Flagship Educators program? Read about the 2018/2019 cohorts and email koger.13@osu.edu with additional questions about the program.