Students Earn New Digital Badges for Environmental Science Courses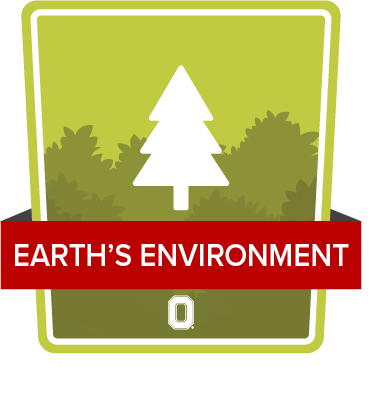 Learners who take some of The Ohio State University's open courses can show off their achievements with colorful digital badges.
The new badges are available for three of Ohio State's free, open environmental science courses that are offered on Canvas Network. The courses – Earth's Environment, Energy and Earth and Life on Earth – have been running since fall 2017.
Student demand drove the implementation of badges, said Tom Evans, program manager for open learning at Ohio State. "We wanted to be able to offer something that's not a credential or diploma."
"The number one question we've gotten from students enrolled is if there's criteria for completion and what they get afterward," said environmental science Instructional Aides Associate Ella Weaver, who supports the online courses.
Canvas's Badgr feature made it easy for the Office of Distance Education and eLearning to add the feature to new and existing courses. Canvas tracks students as they progress through the course; they must complete each module requirement to earn the badge for that course. Once they've completed the criteria, student can access the badge and add it to their digital "backpack."
The badge is meant to serve as something the students can look at and show off to demonstrate what they've learned from the course. Together, the three open environmental science courses cover the material taught in Ohio State's for-credit, semester-long course Introduction to Environmental Science.
Compared to the for-credit course, the open courses are targeted toward a non-traditional audience; about half of the open course students are international. Some are high schoolers hoping to get a head start on college-level material, while others are lifelong learners enjoying free access to Ohio State learning materials.
"The goal of these open courses is to give everyone the opportunity to get the Ohio State experience, have free content available for a global audience and to educate the public so people understand what's going on in the world," Lower said.
Since the self-paced courses were rolled out in 2017, each has attracted more than 500 students, and Evans said 13 students have earned badges since they debuted in July 2018. Past students are eligible for the badges provided they meet certain requirements. More badges are on the way for Ohio State's other Canvas Network offerings, including Introduction to the Science of Cancer and Purposeful, Interactive Foreign Language Teaching.