Why You Don't Have to Teach Online to Benefit From Kickstart Week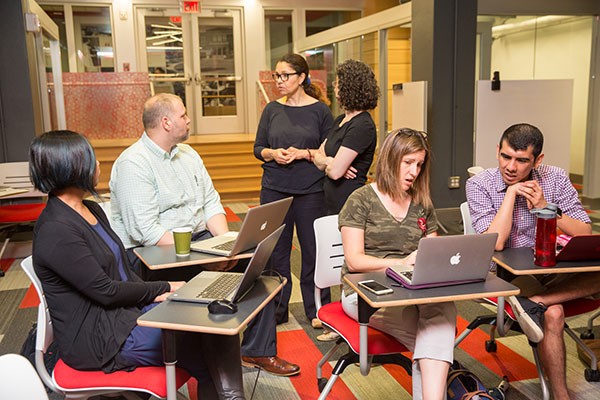 Organizers of Kickstart Week have long preached its benefits to instructors of all stripes. Though the four-day intensive offered by the Office of Distance Education and eLearning (ODEE) is designed to teach the basics of online course design, it's a valuable education for those who teach on-ground courses as well.
Just ask Tatiana Seiber, a Spanish lecturer in the Department of Spanish and Portuguese at The Ohio State University.
Seiber, who has taught Spanish at Ohio State since 2007, began looking for professional development opportunities a few years ago. She soon found the robust offerings available from both the University Center for the Advancement of Teaching (UCAT) and ODEE, and signed up for Kickstart Week in May 2017, led by Distance Education staffers Marcia Ham and Henry Griffy.
She was surprised at the density of the material and appreciated the breadth of topics covered, including course design and quality, testing and academic integrity, creating engaging online activities and delivering online content.
"It's almost like it should be at least a semester program because what we cover each day could be easily extended to a month," Seiber said.
Seiber still hasn't taught an online course, but she's found what she learned at Kickstart Week was applicable beyond the web.
"I became more familiar with Canvas, which was important since our department started using Canvas at that time," she said. "I learned about topics … that have always been on my mind like copyright or quality (assurance) or how to use CarmenConnect."
Her two main takeaways from the workshops were confidence in using teaching technology and awareness of resources available to Ohio State instructors. She thinks her colleagues in her department – and across campus – should all participate for those reasons alone.
"After you attend, you feel like you're not afraid of being more involved with technology, especially if you have been teaching for so many years in a traditional classroom," she said.
"We were all there for different purposes. Even though we mostly worked individually, we always felt like a group, especially when we shared the results of practices and implementation. We talked about hopes, dreams and goals and that was the beginning of establishing a supportive network inside the university."
The ODEE staff leading the workshop made all the difference for Seiber. For the first time, she knew where to turn if she needed help as she worked on her courses.
"It was all the energy Marcia and Henry put into their workshop. It felt like they prepared us, opened a door and said, 'Now you can go – and remember we are here to support you,'" Seiber said. "Now I know there are tons of options and possibilities. From Kickstart, I learned 'Go, explore and don't be afraid,' so I try to impart that to my students as well."