Upcoming State Science Day is a Proven Springboard for STEM Students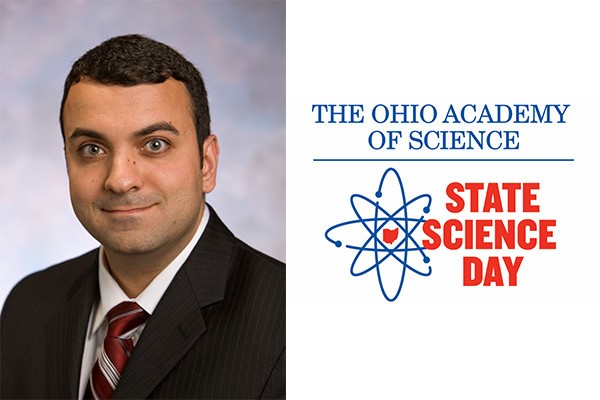 The future of science, technology, engineering and mathematics will be on display this coming weekend, as the Office of Distance Education and eLearning (ODEE) hosts the Ohio Academy of Science's 70th State Science Day.
On Saturday, May 12, more than 1,100 students in grades 5-12 will present their inquiry-based projects at The Ohio State University, competing for nearly $500,000 in awards and scholarships.
State Science Day, which boasts an alumni base of more than 60,000, is a springboard for students interested in STEM fields. Dr. Kris Jatana is one such alum. The Columbus native is a five-time participant (1993-98), and is now Associate Professor in the Department of Otolaryngology-Head and Neck Surgery at Ohio State, as well as the Director of Pediatric Otolaryngology Quality Improvement at Nationwide Children's Hospital.
"I will never forget the outstanding learning opportunity State Science Day provided me," Jatana said. "The chance to communicate and share ideas with others, helps build an early but strong confidence in young scientists that carries on in their future careers." 
Not only did Jatana compete at the district and state levels, he also represented the Buckeye state at the International Science & Engineering Fair. He earned third place in the Grand Award in Medicine & Health Sciences category in 1996 and finished in second place in the same category in 1998.
Jatana's State Science Day projects included determining what sports drink would best rehydrate cells, whether vitamins could protect against free radical damage, and head and neck cancer genetics. Today, he specializes in the surgical care of pediatric patients with tumors and congenital masses in the head and neck, and is actively involved in clinical and translational research, as well as new technology development.
In the last three years, his work has earned five national or international research awards, and has published more than 70 peer-reviewed journal articles and book chapters.
"From the state level, I was fortunate to be able to represent Ohio at the International Science and Engineering Fair, which helped confirm my career decision to become a physician-scientist," he noted.
State Science Day is the academic equivalent of a state athletic championship, and is the culmination of 1,000+ local and district science fairs hosted throughout the state. Student exhibitors were chosen first by their schools, and then rated by their Jr. Academy Council districts as a "superior" project in their respective geographic areas.
Each State Science Day is the result of months (if not years) of continued questioning, researching, hypothesizing, and experimenting for hundreds of students. As someone who has been there before, Jatana has advice for those participating this year and years to come.
"Continue to ask questions and seek answers. Do not get discouraged when things don't go as you planned, but rather continue to learn from past experiences. It is only through persistent curiosity and creativity, that discovery can move us forward."
State Science Day begins Saturday at 8 a.m. in the French Field House, and concludes with an awards ceremony at 1:30 p.m. in St. John Arena.