Using Online Tools to Support Students and Supporting Online Learners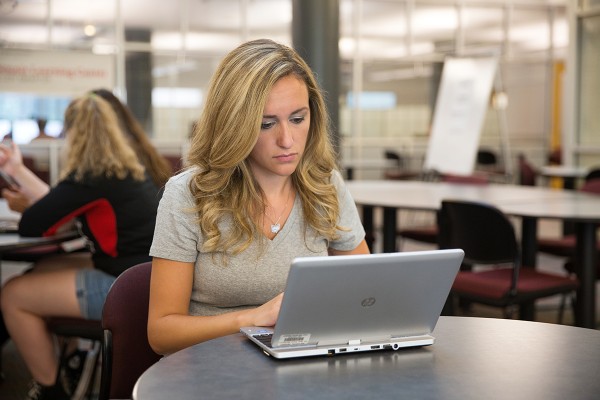 Whether you teach online or just want to learn more about supporting students, from travelling student athletes to working PhD candidates, ODEE wants to help. Two events on Thursday, April 5, will focus on ways to give students a virtual helping hand.
The in-person spring forum, Supporting Students Online, is open to faculty, staff and advisors – anyone who wants to learn more about using online methods to support students. The 60-minute forum, held in Enarson Classroom Building 018 from 10-11 a.m., will include a brief presentation, followed by small rotating discussion groups.
This is the third such forum, and the event has been a chance for faculty and staff from across campus to get together and share ideas and strategies.
"We have military students, student athletes, non-traditional students who have families and are working full time and fully online students," said Jacob Bane, an ODEE senior instructional designer and one of the forum organizers. "These students demand that we adapt our strategies for providing support to students to keep pace with the digital world."
Though the discussion is primarily driven by the attendees, possible topics include web conferencing tools, social media and the unique communication challenges faced in supporting distance and non-traditional learners. Register now for the Supporting Students Online Forum: Spring Conversation.
From noon to 1 p.m. the same day, Audrey Begun and Jennie Babcock of the College of Social Work will lead the webinar Recovering Struggling Students in the Online Course Environment. The webinar focuses on creating online courses that set students up for success, identifying struggling students and getting them back on track.
Begun and Babcock will share proactive strategies for creating a sense of community that have proven successful in their own courses and describe specific steps you can take to employ those strategies in your own online and in-person courses. Register now to be sent the webinar link via email.
The biggest key? Building community among the students and with the instructor, says Henry Griffy, ODEE instructional designer. "The way to avoid and resolve difficulty is getting students involved in activities from the get-go and giving the class a personal touch."
Join us for one or both April 5 events or view more learning technology workshops.