New Canvas Gradebook Available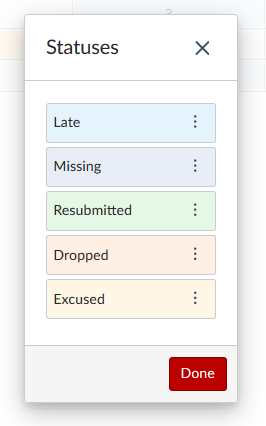 The software that powers CarmenCanvas is constantly improving, based on feedback from instructors and students. The latest of these user-requested improvements is the new Gradebook: basic features are available now and more will be added throughout spring and summer semesters.
Instructors, are you curious to see what the new Gradebook has in store? This feature is available for you to enable on a course-by-course basis. Follow these instructions to enable the new Gradebook in one (or all) of your courses!
Keep in mind, once you start using this version of the Gradebook, you cannot switch back to the previous version. We recommend that you try it out in one course to get familiar with the new features. Once all features are added, the new Gradebook will replace the old version of the Gradebook in all courses. We'll provide plenty of advanced notice before the old version is no longer available.
When you switch, you'll experience more menus and sorting options, the ability to customize colors to differentiate assignment statuses, improved keyboard accessibility when entering grades and crosshairs and highlighting for orientation.
You'll also notice a brand new grading feature. In the new Gradebook, late and missing policies can be automatically applied to assignments. For example, you can set a rule that will automatically deduct 5% of the total grade for every day the assignment is late.
You can follow the New Gradebook Users Group in the Canvas Community to learn more about the new features available. This group also lists what Gradebook features the Canvas developers are tackling next. Follow the discussion or enable the new Gradebook in one of your courses and join in the conversation with instructors from other schools.