Resources Module Provides Support for Online Learners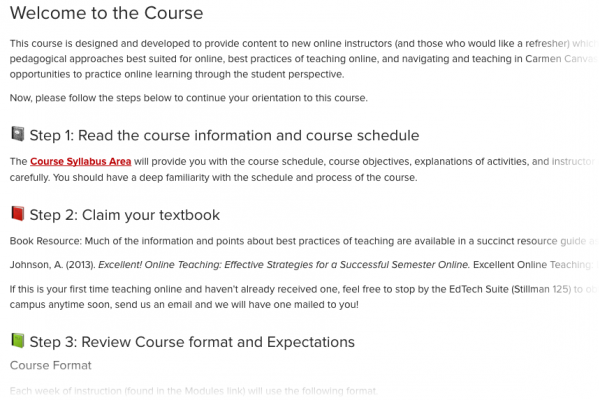 When teaching an online course, how do you ensure your students are all on the same page? You want them to be prepared for the course, to have shared expectations and to know where they can go for support. But how do you guarantee that each student receives this information?
DiAnna Palmer, Instructional Designer in the College of Social Work, worked with her team to create a resources module in CarmenCanvas to accomplish these goals. This module contains a general introduction, textbook information, student/instructor expectations and best practices, technical support resources and university-wide support resources.
Students taking an online course in the College of Social Work will be directed to this module when they first access the course. Furthermore, the rest of the course content is blocked until students interact with the resources module, making sure every student sees the information and discovers that it can be referenced whenever they need guidance.
Palmer receives positive feedback on this module from students and other instructors. "We hear that by having this feature as the first a student sees in the modules, students are then introduced to the day-to-day best practices that help them as they navigate through the online environment."
Palmer highly recommends that other instructors use a similar module in their courses. Her advice for building your own resources module? Put yourself in your students' shoes and think about what you would want or need—course information, as well as support options provided by the university.
"It's like a check and balance to ensure that all students, regardless of their confidence and ability, have at the very least been exposed to needed information," said Palmer.
Are you ready to set your students up for a successful semester? Contact DiAnna Palmer if you'd like help setting up a resources module for your courses.