Introducing LabArchives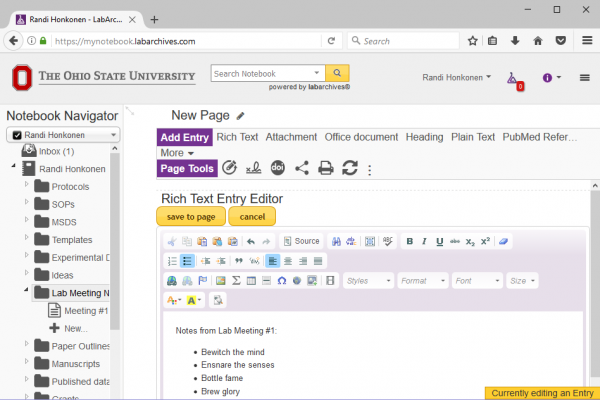 Researchers rejoice! LabArchives, a cloud-based lab notebook software, is available to Ohio State faculty, staff and students. The Office of Research teamed up with the Provost and the Office of Distance Education and eLearning (ODEE) to offer both the professional and classroom versions of the software, in order to enhance professional research and lab coursework at the university.
Visit https://go.osu.edu/labarchives to create an account and explore the software's capabilities.
LabArchives can be used to securely and efficiently record, manage and share data. The software makes it easy to structure your research data in the lab or in the field. Lab notes include timestamps and other metadata to help protect intellectual property and promote research integrity. Notes are also shareable, searchable and transferable to other programs for further analysis.
The Ohio State University edition of LabArchives lets you use your university credentials to access your account—no need to remember another password.
This software can be used to manage public, internal and private data. At this time, users cannot store restricted (S4) data in the system. To learn more about data classifications, visit cybersecurity.osu.edu.
For more information about LabArchives, visit the ODEE Resource Center or contact labarchives@osu.edu.