Crocheting and Online Cancer Course Helps Dalby Mom Cope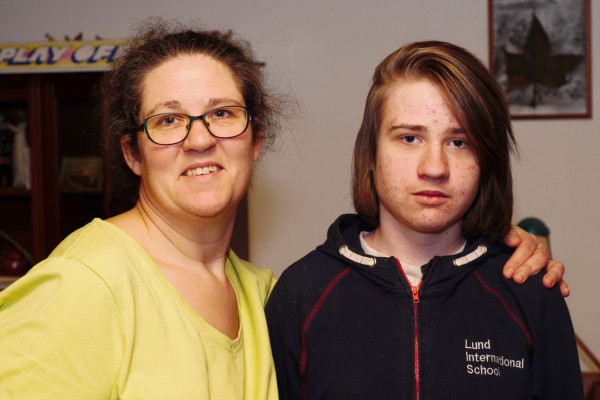 Just 30 miles from the southern tip of Sweden sits the small village of Dalby. Among its 6,000 citizens is Kristina Runyeon-Odeberg—a wife, mother, craftswoman and online course aficionado.
Runyeon-Odeberg found her way into the Buckeye fold through a free online course, Introduction to the Science of Cancer, developed by The Ohio State University Comprehensive Cancer Center – Arthur G. James Cancer Hospital and Richard J. Solove Research Institute (OSUCCC – James), in partnership with the Office of Distance Education and eLearning (ODEE).
"I was surfing the Canvas.net site to get a hang of it before I started a MOOC in literature. I was looking for self-paced courses and there it was looking at me," she said. "In my world, there is no such thing as too much learning, there is only too little time. Distance studies are the best—I squeeze a bit of time in every now and then and ultimately I get there."
The topic of this particular course hit close to home for Runyeon-Odeberg and her family. Her youngest son, Markus, was diagnosed with medulloblastoma in December 2012. Medulloblastoma is the most common malignant brain tumor in children, accounting for about 20 percent of all childhood brain tumors.
Markus underwent surgery and spent most of 2013 in treatments. As his mother explained, "it seemed that all we were doing was waiting. Waiting for appointments. Waiting near the bed with our sedated hero. Waiting for blood samples. As if the grief and fear of a child's life being in jeopardy for a year wasn't enough, all it seemed we could do was wait."
As a form of therapy, Runyeon-Odeberg took up crocheting caps for her son's bare head. Soon her caps and their (sometimes) not-so-G-rated messaging became the talk of the treatment center.
"An older lady came up to me and cooed, 'Oh, it's so pretty!' Outwardly, I thanked her. But inwardly, I was wondering if she knew what I was crocheting–there was a bad word on the cap. Well, two counting cancer," Runyeon-Odeberg recalled. "It was our way of dealing with it, and at the same time, creating awareness, as some of the messages spanning the caps were blatantly obvious."
While her participation in the Introduction to the Science of Cancer online course came later, what she learned through the course reinforced what the radiation oncology team told her family and helped fill in the knowledge gaps.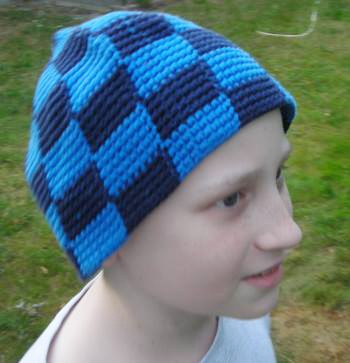 "The oncology team for radiation was nothing less than fantastic in educating us about what was going to happen. [...] With regard to chemo, the education was more gradual and there seemed to be less time. There, the course filled a partial gap. What the course did in addition to that was reinforce my feelings that the team were giving my son the best treatment available."
Introduction to the Science of Cancer was launched in October 2015 and is available as a self-paced course on Canvas.net and iTunes. It is designed for people who want a better understanding of cancer but have little background in science. The idea is that a sound understanding will lead to a stronger commitment to cancer prevention by individuals, communities and nations. Additionally, successful cancer prevention efforts can also lower the risk of other major non-communicable diseases, such as cardiovascular disease, diabetes, hypertension and obesity.
Associate Director for Cancer Communications at the OSUCCC - James, Darrell Ward, connected with Runyeon-Odeberg when she submitted her testimony for the course's creative project assignment.
"I was amazed by Kristina's project. It poignantly combined a mother's love for her son and her effort to work through the worry of what her child was going through. I was also impressed by the sense of humor she included in her project description. Her course feedback was an example of how cancer education can ease suffering."
Runyeon-Odeberg shared her story to remind herself that she's not alone. "The caps with their different methods were my way of fighting back, cheering on my young hero to the best of my avail, and keeping my hands busy to keep my mind on the right border of sane at times."
As of December 2017, Markus is four years out of treatment and growing out his hair as long as possible. His mother continues to quench her thirst for knowledge, taking two more Canvas courses (including another one from Ohio State) and studying at the university level as well.
Tom Evans, Ohio State's Manager for Open Learning at ODEE, added: "Kristina in Dalby and others like her are one of many reasons why Ohio State develops open online courses and other resources—so people anywhere in the world can engage with and have access to Ohio State's expertise and research as well as be introduced to the university."
Roughly 4,200 miles separate Ohio State and Dalby, but distance is no match for online instruction and the exchange of knowledge between curious people around the world.
---
Open Learning through ODEE is dedicated to assisting with the creation of open online learning opportunities including modules, podcasts, MOOCs and iTunes content that is then available for the university community and beyond.
For more information, click here or contact us at moocs@osu.edu.