Civil Rights Course Incorporates Tablets, Apps, Podcasts and More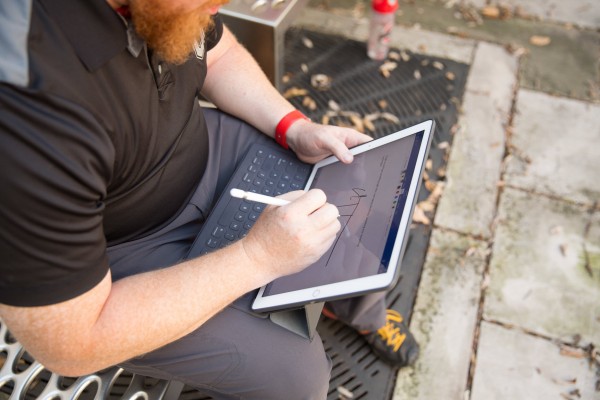 Envision a class with no textbook. One where podcasts and video playlists are part of the course material, assignments can be completed using apps and the iPad Pro® is an essential learning tool. An engaging class about civil rights where the president of the university and the dean of Ohio State's Moritz College of Law just happen to be instructors.
This is the premise for "The Civil Rights Movement and the Supreme Court," a course available to honors freshmen at The Ohio State University. This unique academic offering utilizes technology to enhance the teaching and learning experience for instructors and students alike.
Cory Tressler, Director of Learning Programs in the Office of Distance Education and eLearning (ODEE), supports the course content and structure with digital learning tools.
Tressler has also produced podcasts for the course, using the recording studio in the Denney Hall Digital Union. "These radio-style recordings were simple to create in the Digital Union, and the quality was excellent," said Tressler. "Students can easily consume these podcasts on the iPad devices provided for this course or on the go on their mobile phones."
In addition to the iPad, students were provided an Apple Pencil® to more easily integrate the device into existing classroom habits. "The pencil was very useful in note taking because it allows me to take notes on material directly, as if it were a hard copy with a traditional pencil," said one student.
The iPad went far beyond a note-taking device for this course—students completed assignments using apps such as Keynote, Explain Everything, Notability and Photoshop Sketch. Tressler demonstrated various apps to prepare students to complete their assignments in a way that was meaningful to them.
Students enjoyed the freedom to express themselves in their assignments using a variety of apps. "The iPad was very useful in creating projects in new and original ways," one student commented.
Another student went even further to say "the iPad has proven to be an absolutely invaluable tool for my education."
This course is one example of a university-wide effort to provide valuable student experiences through technology-integrated instruction. We look forward to more courses like this one with the introduction of the Digital Flagship initiative. This collaboration with Apple will provide a common toolset upon which students can collaborate and interact in innovative ways.
Learn more about the ways Digital Flagship is changing education at Ohio State.