Building Connections in an Online Program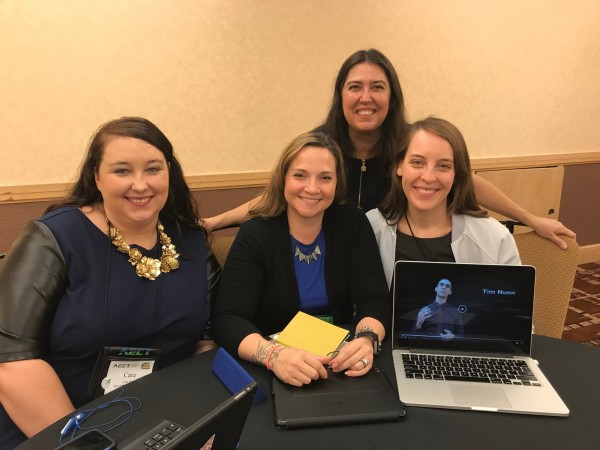 Learning online means learning alone, right? For Cara North, a student in The Ohio State University's online Master of Learning Technologies program this couldn't be further from the truth.
"My favorite thing about the program is that I found my tribe," North said.
Four years ago, North left her instructional design job at Amazon and moved to Columbus, Ohio to be with her now husband. She found out about the program Ohio State offered online, and quickly applied to enroll.
"I tend to thrive in chaos," North Said. "If I don't have something on my plate, I feel like I'm being lazy. After I finished my master's in workforce development, I knew I wanted to keep sharpening my skills."
The online program provided North the flexibility she needed to balance her job and entrepreneurial aspirations. She was ready to learn new things, but she realized very quickly that this program was going to provide so much more.
Her first course in the program culminated in a group project. North had students in group from all over Columbus and one student in Tucson, Arizona.
"Immediately, I thought I don't have time for this," North said. "But, I quickly realized you can have meaningful conversations with people online. You can really extend the 'virtual handshake.' When I finally had an opportunity to meet my classmates in person at a conference we were presenting at, it was like I already knew them so well."
Not only has North been able to build connections with her classmates, she's also developed strong relationships with faculty and staff.
"I'm extremely close with my advisor," North said. "I'm also close to my instructors. They share opportunities with their students. In fact, one of my instructors, shared out an opportunity to present at a conference. I teamed up with a few classmates and we presented together. It provided us a chance to work together, network, and build connections."
But, North didn't stop at building her network in the classroom. She quickly began extending her virtual network through her social media presence, which led to the creation of her business, The Learning Camel.
"I really wanted to help people take their online presence to the next level," North said. "I built my network in Columbus in a year and a half. If I can do it, anybody can and I wanted to help people get there. And, that's where my business came to life."  
North extended her network through the online program and built connections that have helped her both personally and professionally.   
"Ohio State is a large institution with a lot of possibilities and opportunities," said North. "You will meet people who you can connect with and who will connect you with others."
Are you ready to build up your in-person and virtual network? Learn more about Ohio State's online Master of Learning Technologies program.