Global One Health Initiative Expands with Launch of Canvas Course Collection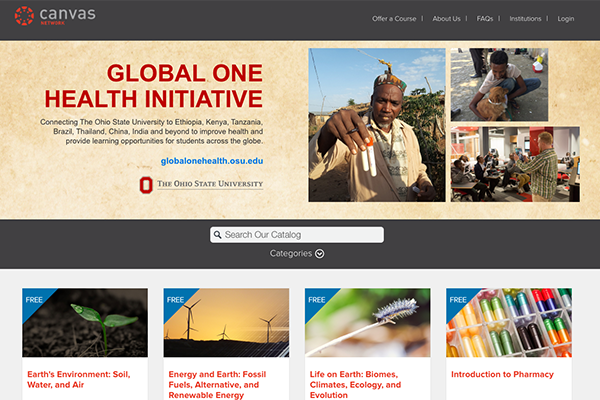 Global One Health connects The Ohio State University to Ethiopia, Kenya, Tanzania, Brazil, Thailand, China, India and beyond in a coordinated, multidisciplinary approach to improve health, build capacity and provide learning opportunities for students across the globe. 
Within that initiative were the eCapacity Workshops, which in Fall 2016 brought 15 East African faculty members to the Columbus campus to learn about digital pedagogy, online and blended course development, and various eLearning tools and strategies.
This initiative has again evolved with the launch of the Global One Health collection on the Canvas Network. This collection currently has six courses and will build to 15 within the next year, and topics will touch on agriculture, human biology, veterinary medicine and public health. The goal is for Global One Health partners to integrate this material into courses they teach in person in their home institutions.
The collection includes:
Introduction to Pharmacy
A survey of the profession of pharmacy including its history, evolving scope of practice, ethical foundations, regulation educational and career opportunities. Click here to view course page
Introduction to the Science of Cancer
An open course designed to be accessible to those with limited knowledge of science, as well as be useful to healthcare professionals with a limited background in the field of cancer.  Click here to view course page
Peer Mentoring in STEM
A course designed for those who will be mentoring others majoring or interested in science, technology, engineering and mathematics.  Click here to view course page
The Environmental Science courses
A three-part series including:
While these courses are listed under the Global One Health collection, these courses are open for all to experience.
Open Learning through the Office of Distance Education and eLearning (ODEE) coordinated the development and launch of the Global One Health collection. This area of expertise is dedicated to assisting with the creation of open online learning opportunities including modules, podcasts, MOOCs and iTunes content that is then available for the university community and beyond.
Participants in Ohio State's open learning opportunities are a growing online community who not only share a love of learning, but discuss course topics, share information, and discover new resources. This valuable information could benefit a person's career, or inspire them to begin formal education through Ohio State's online or in-person degree programs.