RN to BSN Program Eliminates All Textbook Costs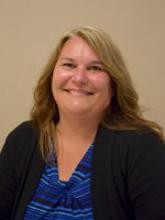 The price of higher education is on the rise, causing students to make the difficult choice between furthering their education or paying for life necessities. Many students are financially burdened by the high cost of tuition and textbooks, with 81% of The Ohio State University students receiving some type of federal financial aid. To help lighten the financial load, Ohio State and its online programs are taking dedicated steps to make education more affordable.
As President Drake moves his 20/20 Vision for access, affordability and excellence forward, many units and groups across the university are following in his footsteps. The Affordable Learning Exchange (ALX) program contributes to the President's mission by working with faculty and staff members to reduce the cost of textbooks and course materials.
Amy Jauch, lead faculty for Ohio State's online RN to BSN program, worked with ALX to help save her students up to $500 in textbook costs. Jauch was awarded the ALX grant in November 2016, implementing the transformed course materials during fall semester 2017.
In an interview with Jauch, she explained how Ohio State made her vision come true.
Why did you decided to move away from traditional textbooks towards open and affordable course materials?
The way we receive our knowledge has changed. There is a variety of free resources available to use through the library or internet. It seemed silly to have my students purchase books because there is a surplus of current and relevant content out there. In a world where healthcare is ever-changing, traditional textbooks may have outdated information.
What does ALX mean to you?
Affordability. This program is giving students the opportunity to get quality education without the unneeded costs of textbooks. I've always asked myself 'Do we really need these books and how many of the students are actually buying the required books?'  
As a student, I have had to buy multiple books that I never opened and that made me wonder about us really needing the books, especially with the vast amount of free resources available. Since working with the ALX program, I've seen a positive change in the quality of student assignments that were originally assigned because of textbooks.
What difference has this project made to the RN to BSN program? 
By using the resource that are available to them, I've seen a huge difference in student work. They are taught how to search for credible online resources and with that knowledge they are able to teach their patients how to be responsible online when searching for healthcare resources.
How much does your project save RN-BSN online degree students each year?
Depending on what electives the student ends up taking, the cost saved is between $400 to $500 per student. The online RN to BSN program offers zero cost textbooks and no fees in our tuition are towards the price of textbooks.
What feedback have you received from colleagues about their experiences with this project?
Wendy Bowles, our Assistant Dean of Baccalaureate Programs and Associate Professor, said that ALX is one of the best things that has happened to our program. She has been impressed by the increase in quality of my course and how I've been able to pick and choose the best resources for my students.
Jauch is teaching her students how to responsibly use the information that is out there to improve their work and better her courses. Her passion and vision for the online RN to BSN degree program is shown through the time and hard work that she put in to make the program more affordable for the students.
Apply now to Ohio State's online RN to BSN program and experience how cutting the cost of textbooks has improved the program firsthand.