Ohio State's Hackathon Challenges Students to Create Apps and Software in 24 Hours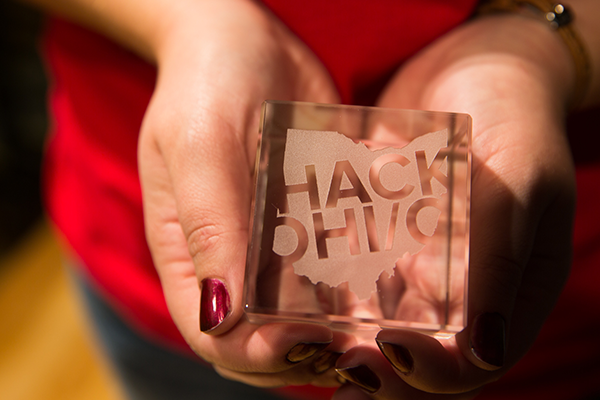 Ever had an idea one moment and 24 hours later, made it a reality?
That's what hundreds of students from The Ohio State University and other universities around the Midwest will do at the fifth annual HackOHI/O, October 21-22 at the Ohio Union.
HackOHI/O is Ohio State's student-led annual hackathon where student teams journey from ideation to prototype in a single weekend. The goal of each project is to solve a problem or meet a marketplace need. After 24 hours of "hacking," teams present their ideas to fellow students, faculty, staff and tech company representatives for a chance to earn $8,000+ in prizes.
HackOHI/O is open to all undergraduate and graduate students with any amount of technical experience. Students will have the opportunity to take advantage of workshops, professional mentors and other resources to help bring their projects to life. There's still time to register to participate at the HackOHI/O website.
Faculty and staff at Ohio State and professionals in the surrounding community are encouraged to participate as project judges on Sunday, October 22. Groups of judges will evaluate student projects based on difficulty, creativity, usefulness and presentation. Those interested in judging can visit go.osu.edu/hackjudging.
This year marks the second year the Office of Distance Education and eLearning (ODEE) has provided planning, logistical and marketing support for HackOHI/O.
HackOHI/O 2017 is sponsored by Harris, JPMorgan Chase, The Ohio State University Wexner Medical Center, Root Car Insurance, Eaton, TeraData, Rockwell Automation, Capital One, Battelle, Facebook, GitHub, Delphi, Nationwide Insurance, Hyland, CMM, Global Water Institute, Microsoft, Innovation Studio, Rev1, CoverMyMeds, DSW and JobsOhio.