Ohio State, Unizin Receives 2017 Campus Technology Impact Award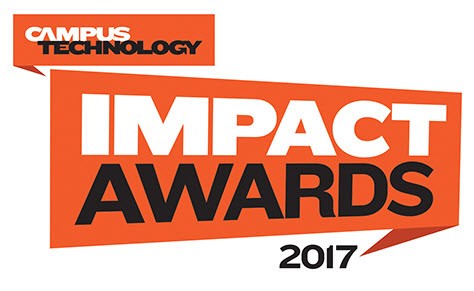 The Ohio State University and its fellow research institutions within the Unizin Consortium were awarded the 2017 Campus Technology Impact Award in the category of IT infrastructure and systems.
A higher education technology magazine, Campus Technology's Impact Awards "honor exemplary colleges and universities that are making an extraordinary impact with technology on campus, doing important work in the service of teaching, learning, administration and operations," according to the website. The Impact Awards are the successor to Campus Technology's annual Innovators Awards.
Unizin is a group of research institutions dedicated to enhancing student success with digital technology. Founded in 2014, Unizin has grown to 25 institutions working to influence the digital learning landscape by focusing on content, learning environment platforms, and data. Ohio State joined as a founding member in December 2014.
By working together, Unizin members are improving the costs and benefits of the essential digital services that support learning. For example, Unizin and the Big Ten Academic Alliance are collaborating on an initiative called Content Camp, which supports faculty from across institutions in authoring free, open assessment banks that support the adoption of open educational resources in large courses.
Unizin board member and Office Distance Education and eLearning associate vice president, Liv Gjestvang, explained: "By developing a collection of high-quality, peer-reviewed assessment items, Content Camp removes a significant obstacle that instructors encounter when switching to open educational resources. Content Camp is a great example of collaboration among Unizin institutions. It's a project that brings faculty from across our institutions together to create more affordable, high-quality learning opportunities for students."
The 2017 Impact Award winners will be featured in Campus Technology's October issue, with in-depth profiles following over the next few months. Read the full list of awardees: https://campustechnology.com/impact.