AccessEDU Podcast Shares Buckeye Experience with Accessibility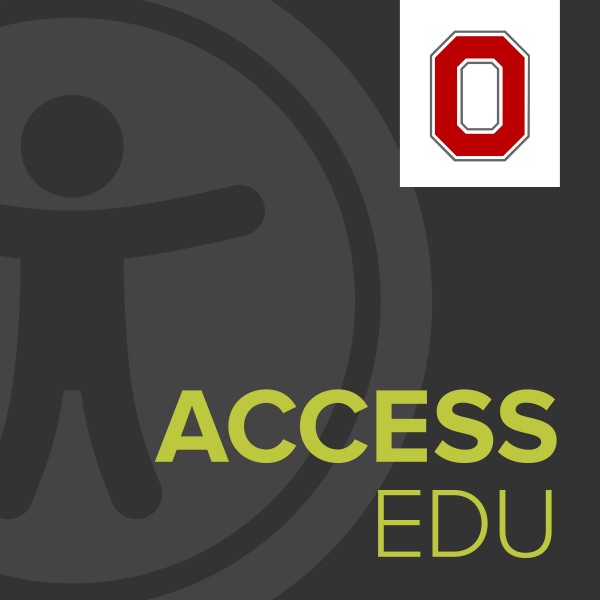 There is no denying that the consumption of podcasts is on the rise in the United States. As of 2017, over 112 million Americans have listened to a podcast, with over 42 million tuning in weekly. Wanting to capitalize on these stats, one staff member from the Office of Distance Education and eLearning (ODEE) created a podcast dedicated to sharing accessibility experiences across The Ohio State University.
ODEE is committed to creating a positive learning experience for everyone at the university, including those who have disabilities that impact learning. To help inform those in higher education about all things accessibility, Associate Instructional Designer Megan Fogel created the AccessEDU podcast.
AccessEDU is focused on raising awareness around accessibility in higher education at Ohio State and across the country. Fogel was inspired to create the series to help listeners understand the importance of accessibility and how it impacts the day-to-day lives of students, faculty and staff.
"In my work at Ohio State, I've seen a misunderstanding of accessibility and the impact it has on different kinds students. No two learners are the same, and we need to make sure education is accessible for everyone. I'm hoping this podcast helps bring that to light."
Currently there are three AccessEDU episodes, with topics ranging from innovation in accessibility to accessible content.
Episode One – Jessica Phillips
In this introductory episode, host Fogel interviews Jessica Phillips, Senior Instructional Designer at Ohio State. The two discuss the state of accessibility in higher education and reveal the story of how this podcast came to be.
Fogel interviews Ohio State student Matias Grioni about a project he created at the annual Hackathon. Find out how the creation could impact those with hearing differences.
Fogel interviews an Ohio State Educational Technologist Tara Koger about her tips for designing content that is visually appealing AND accessible.
Fogel looks to continue to grow AccessEDU and share stories from Ohio State and beyond. Have experience with accessibility in higher education? Reach out and share your story!