Program 60 Sharpens Minds of Retirees and University Instructors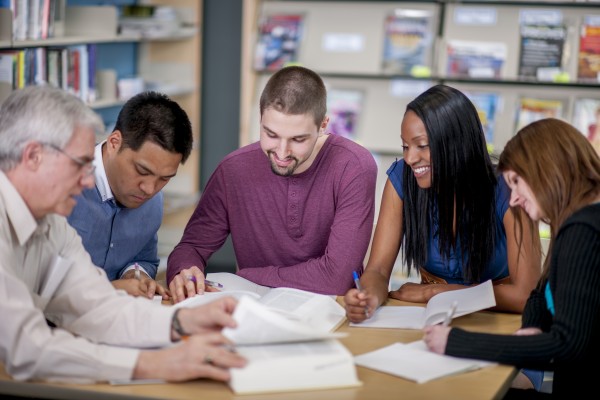 Retirement is a highly-anticipated moment for many working professionals. After years of work and accomplishment they are free to follow alternate passions.  Some work to shave a couple strokes off their golf swing or take up a hobby of bird watching. But for many Ohio residents, retirement means expanding their horizons by heading back to school and participating in Program 60.
Program 60 gives Ohio residents age sixty and older the opportunity to experience academic excellence at The Ohio State University. These residents are allowed to audit university courses, on a space available basis, tuition-free through the program. This gives them the chance to head back to school and learn something new. While many of the residents who participate in the program are recent retirees, they aren't the only ones becoming students again. Ohio State instructors are able to take courses through Program 60, and in some cases a Program 60 professor will teach a Program 60 student.
John Bowen, a retired corporate computer programmer, discovered Program 60 after his daughter, an Associate Professor at the Ohio State Mansfield campus, mentioned the opportunity to him.
"I enjoyed my college experience, but back then it was focused on learning what I needed to get a job and begin my career," Bowen said. "This time around I'm able to learn something not because I have to for my future success, but because I'm interested in it."
Bowen's interests are scientific in nature, which is how he ended up in The World of Energy, a physics course taught by Physics Lecturer and former Program 60 participant Mary Wildermuth. Physics 1103 and 1104 may seem like normal general education offerings, but they are anything but that. Geared towards non-science majors, The World of Energy gives students a hands-on overview of physics, showing the impact these concepts have on everyday life.
"We have all different majors, ethnicities and cultures come through those classroom doors, and my job is to make the course relevant and have an impact on all of them," Wildermuth said. "I've done that by posing the questions 'How will I use energy?' and 'How am I dependent on it in my daily life?' Then the courses explore physics in the context of energy use."
To make sure her course remains up-to-date and relevant for students, Wildermuth has used Program 60 to take courses on the topic of climate change.
"Climate change heavily relates to energy and I knew it would be important for my students to understand," Wildermuth said. "Because of Program 60 I've found quality information at an undergraduate level   which improved my course for my students. It's been a great experience."
Bowen and Wildermuth shared that Program 60 isn't only a great opportunity for the participants, but for the traditional students taking the course as well. Wildermuth loves the intergenerational group that the program provides to the university, seeing in her course this past semester, older and younger students working well with each other and forming a bond grounded in learning. Bowen expressed the same feelings. 
"I got to learn something new, made my brain work again, and the students were able to connect and learn from someone who wasn't their usual peers," Bowen said. "I would absolutely recommend this experience to anyone who could participate."
Interested in finding out more about Program 60 at Ohio State? Check out our web page for more information.