Congratulations, Graduates!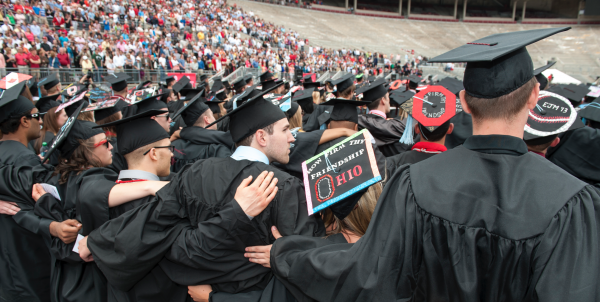 As you prepare for your next steps after graduation and your relationship with the university evolves, remember the IT service and access changes approaching.
Ohio State Username and Password
Graduating from the university will change permissions for your Ohio State Username (name.#) and password. Many services are only accessible through these credentials, but you can prepare in advance to avoid issues. We recommend you review the impacted services and complete your maintenance activities by Friday, May 5th. 

> BuckeyeBox
Upon graduation, you won't be able to log in to BuckeyeBox, and your shared collaborations will be removed. Files are not deleted but you will want to manage them before losing access. We are not able to transfer files for you.
Download files to your computer or transfer to a personal Box account. Keep in mind that BuckeyeBox accounts allow unlimited storage, while a free Box account is 10GB. Learn more here.
> Email
You can keep your OSU email as long as you like. You can forward your name.#@osu.edu address to your BuckeyeMail account. Any changes to email delivery may be made by logging into my.osu.edu and selecting Change Email Delivery. 
> U.OSU
Your U.OSU access and access to websites you've developed will also be affected. When you lose access, you will be unable to sign into the site, even to delete it. It is simple to save your content by exporting it to another WordPress site. Check out this Resource Center article for a walk-through of the WordPress export process. If you used your U.OSU account to manage a group blog or website, transfer your site to a new user or change admins. 
> Wireless
You will retain access to "osuwireless" for 2 years after graduation. You will always have access to the "WiFi@OSU" visitor network. Please note that "WiFi@OSU" is unencrypted. 

> Office 365 Student Advantage/ProPlus
Your access to Office 365 Student Advantage/ProPlus will continue for 2 years after you graduate.

> Student Center
For two years after graduation you can log into buckeyelink.osu.edu to view your financial and academic history, update personal information and more.
  
Tech Hub Discounts
Besides service access changes, upon graduation you'll no longer be eligible for the exclusive academic discounts on technology purchases at Tech Hub. Use it before you lose it! You'll never get a better deal. 


For technical assistance beyond the resources provided above, call (614) 688-HELP. Otherwise, we wish you a smooth transition to your next adventure.  Congratulations!