ODEE Student Services Team Receives Columbus CEO Award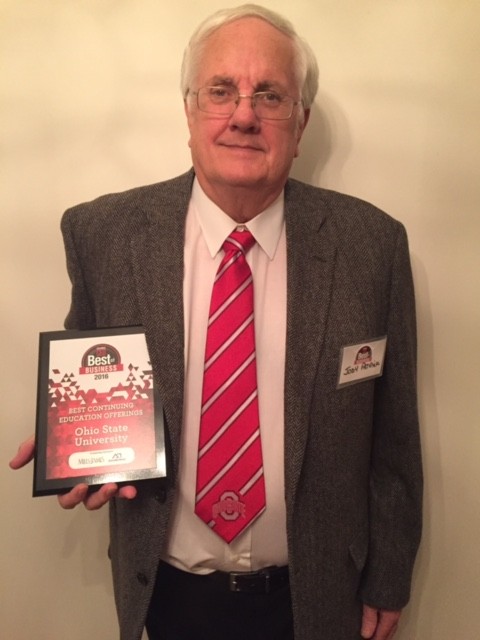 As 2016 begins to come to a close, it's time to roll out the red carpet and celebrate the accomplishments of the year. One group receiving special attention is the Student Services Team in the Office of Distance Education and eLearning, who brought home the Columbus CEO Best of Business Award for their selection of continuing education offerings for the second year in a row.
"We were surprised when we got the email saying we won for a second time," said Corinna Owens, Director of Students Services and Enrollment. "We really enjoy serving the Columbus community and are very thankful to those who voted for us again."
Columbus CEO magazine gives awards every year to recognize central Ohio's top businesses and organizations as determined by the magazine's readers. The Best of Business Awards are the longest running awards the magazine provides, with 2016 marking its ninth year of determining the top offerings in central Ohio.
"Our readers decide who they believe is the best of the best in Columbus on a number of different categories," said Mary Yost, editor of CEO Magazine. "This year alone we had 12 different nominees for the continuing education category, including some who have been consistently nominated and others who were new write-ins."
Voting for the Best of Business Awards takes place from May through July. Nominees were submitted by 16,500 individuals this year ranging from advertising agencies to small businesses. The ninth annual online poll attracted 12,659 voters who provided their opinion on their favorite business and service providers in nearly 100 categories. Yost said receiving this award is like gaining a seal of approval from the business community in central Ohio.
For the Student Services team, winning this award for the second year shows them that they are really making an impact on the Columbus community. They truly enjoying working with the people of Columbus and encouraging nontraditional students to continue their education at The Ohio State University.
"This award shows that we are providing a reputable service to Columbus on behalf of the university," said Lauren Evans, Program Manager of Program 60. "It is great to be recognized for helping these students accomplish their goals."
Are you interested in heading back to school? It's not too late. Visit the ODEE Student Services website to learn how you can achieve your educational goals.