Employee Spotlight
June 2022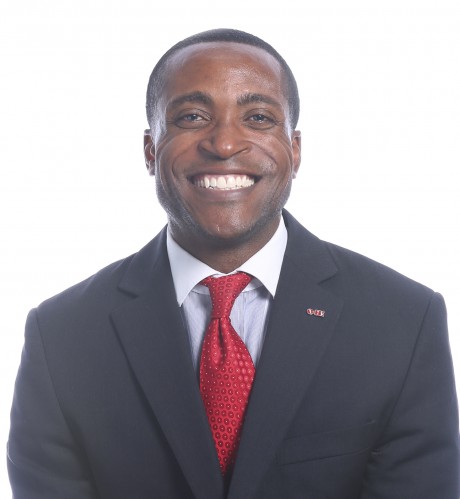 Senior Relationship Manager
This month, the spotlight falls on Will Mills, a relationship manager and DEIJ culture builder. A former student athlete at THE Ohio State University, Will is always looking for ways to pay it forward to current students. His favorite projects tend to be those that have the biggest impact on young Buckeyes! Will is thankful for the people he has the opportunity to work with, as well as the flexibility the university provides. When he's not dressed for success on campus, this father of two can be found spending time with family and trying new things.
Q: What is your role at the university? Senior Relationship Manager. Here's a link to more background about the OTDI Relationship Management role and our team members - https://u.osu.edu/relationshipmanagement/
I also help cultivate belonging, culture and DEIJ (diversity, equity, inclusion & justice) efforts across OTDI.
Q: How long have you worked at Ohio State? 10 years
Q: Have you worked on any large projects since you've been here? It may sound cliché, but I really am thankful for every project that I get to work on as part of the Buckeye family. Each opportunity brings some type of lesson and chance to learn/grow. A project that comes to mind now is from my time as a Development Officer during the "But For Ohio State…" campaign (in 2016). At that time, this was the university's most ambitious fundraising and engagement campaign. The campaign goal was to raise $2.5 billion, and we raised more than $3 billion from more than 750,000 donors across Buckeye Nation. This effort resulted in more that 39,000 student scholarships and more than $1 billon in research. I specifically took interest in the Minority Engineering Program and by the end of the campaign, we had raised enough funds to establish the program's first endowment which resulted in on-going support in perpetuity. I learned a lot about the power of relationships and how rallying behind a shared vision can inspire action for transformational change.
As part of OTDI, it was really fun to work alongside the President's Office, Student Life and WOSU to keep Buckeye traditions going despite the pandemic. We worked together to bring about the first-ever virtual Spring Commencement ceremony and the first virtual Board of Trustees meeting which required legislation from state government officials including Governor Mike DeWine.
Q: What do you like best about your job? The people, the flexibility and the impact. Daily tasks, for me, usually vary quite a bit because I manage a portfolio that includes MITS partners and distributed IT partners. Although each day is different (with rarely ever a dull moment) I know that regardless of the task, I'll likely be working with great people. I'm thankful to meet and work with wonderful teams across OTDI, Ohio State and beyond!
It amazing to be part of the process where people and ideas come together to create transformational change. The Relationship Management Team is a very close group, and we have a lot of fun focusing on impact in our role as strategic partners.
Q. How did your career path bring you to work for us? I started my Ohio State career as a temporary employee, working the front desk of the Dean's suite reception area in the College of Engineering. A new dean was just coming onboard and there was a large amount of change happening across the college. I remember wearing a suit and tie every day and when my shift ended, I would clock out and head right back to the front desk so I could be there in case anyone else needed help. I remember occasionally hearing people make jokes about the overdressed front desk receptionist. The words hurt, but I knew there was no way I was going to let that stop me from finding my way. Things grew from there.
Q. Why did you choose to work at Ohio State? Ohio State is a place where anything is possible. We have an opportunity to shape the world for the next generation. During my student-athlete recruiting visit to Ohio State, the first person I met was 2-time Heisman trophy winner, Archie Griffin. Archie, my mom and I spent two hours together in his office. One of Archie's gems from that meeting was that he appreciated the care Ohio State showed him as a student athlete and he committed to do the same for me. Working at Ohio State was one of his ways to pay forward for the next generation of Buckeyes. Archie has lived up to the words he spoke that day. Now, it's my opportunity to pay forward for other Buckeyes.
Q. Of what are you most proud? Being the best dad I can be for my daughter (Navie) and my son (Austin). It makes me smile when we share a new experience, especially those that were out of my reach when I was their age.
Q: Where did you go to college? THE Ohio State University (I never get tired of saying that haha!)
Q: Where are you from originally? I was born in Warrensville Heights, OH. My mother, three siblings and I moved to Akron, OH, when I was four years old.  
Q. What do you do for fun outside of work? I love to spend time with my family and try new things that feed my curiosity. Trying new restaurants, cultural festivals, local shops, traveling, finding new artists, etc.
Q: Favorite quote? "A friend may be waiting behind a stranger's face." -Maya Angelou
Q: Do you have a favorite book or movie? The Five People You Meet in Heaven by Mitch Albom (favorite book). Favorite movies are toss-ups between comedies and/or sci-fi.
Q: It's 9 p.m. on a Saturday. What are you doing? Winding down from story time with the kiddos and listening to them make each other laugh, even though they're supposed to be in their rooms sleeping.
I started a journaling practice too called "Like, Wish, Wonder." I follow these prompts:
I LIKE that I did these things today:
I WISH that I would have done (or reacted) differently to these things today:
I WONDER what would have happened if I had tried these new things today: (I try to make sure this section is as short as possible every day)