Employee Spotlight
November 2022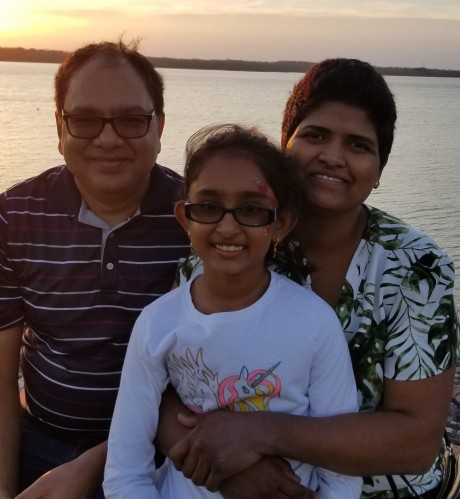 Manager, eLearning Systems Development
Get to know Sravani from the eLearning Systems Development team. Her group in OTDI supports major teaching and learning tools like CarmenCanvas, CarmenZoom, Mediasite, Top Hat, LabArchives…the list goes on! Sravani started at Ohio State as a toothbrush salesperson while working on her Master's degree, but found her way to OTDI in 2015. Originally from a "pothole town" in India, she aspired to be a Buckeye—and has now been at the university for over 20 years! Off the clock, you will likely find Sravani at the park with her husband and daughter or hitting up Brassica for a tasty meal.
Q: What is your role at the university? I am the manager of the eLearning Systems Development team which is part of the Digital Learning and Student Success team in OTDI. We support our faculty, staff, and students with the academic Learning Management System, CarmenCanvas, and its ancillary products.
Q: How long have you worked at Ohio State? I have been at Ohio State since 2000 in various capacities—first as a graduate student and then as a full-time employee. During these 22 years, the only time I did not work at the university was when I took a year off to spend with my newborn baby back in 2015.
Q: Have you worked on any large projects since you've been here? I worked on a few large projects. The first one and the one close to my heart is Vita, the Faculty Information System for Promotion and Tenure.
Q: What are you currently working on? What does a typical day look like for you? The most exciting project I am working on is the Learning Analytics project. A typical work day starts with checking my emails, followed by our daily standup, followed by working on whatever project at hand. It is also usually sprinkled with several meetings.
Q: What do you like best about your job? The people I work alongside. Also, I love the freedom we have to speak up and how suggestions are received.
Q. How did your career path bring you to work for us? When I was completing my undergraduate degree back in India, I applied to a few schools for my masters, my pie-in-the-sky school being Ohio State. Luckily, I got into Ohio State. It was back in 2000. As you can see, I loved it so much that I have been here ever since. I worked for the College of Engineering, the Center for Cognitive Science, and the College of Veterinary medicine before taking a year off to be with my infant daughter. After spending a year with my daughter, I applied for this position.
Q. Why did you choose to work at Ohio State? I think Ohio State is where great minds come together to do great things. Who would not want to be a part of the work that happens here is the question.
Q. Of what are you most proud? I am proud of my family, especially my mom. She died of cancer about 6 months ago. She made me who I am today, from the timid child I was with minimal resources, and taught me much about life even as she breathed her last breath.
Q: What was your very first job? My first paid job was at a bookstore in the College of Dentistry. We sold a lot of toothbrushes :). People came there to buy toothbrushes and floss more than for books.
Q: Where did you go to college? I got my Undergraduate degree in Mechanical Engineering from India and my Graduate degree in Industrial Engineering from the Ohio State University.
Q: Where are you from originally? I am from Andhra Pradesh, India. To be more specific, I am from a place called Guntur, previously a small town, now I guess it is a city. And the legend is that Guntur is named after Gunta(pothole) + Vuuru(town), which leaves you with Pothole town. It is very famous for its cotton, tobacco, and chili production. Once, the Mirchi (chili) yard (where chilies are graded) caught on fire when I was growing up and the entire "pothole town" was coughing for a week straight :).
Q: What is your favorite place to visit? We love to go to Highbanks Metro Park. My daughter loves to take the bird watch trail and visit the Adena mound.
Q: If you could travel anywhere in the world, where would you go and why? I one day would love to visit Rome. I have read and watched a lot about Rome. I would love to see and experience the various monuments and artifacts with my own eyes.
Q: Can you tell us about your family? My family consists of my husband Vinod, and our 8-year-old Meghana.
Q. What do you do for fun outside of work? Do you have any hobbies? I love riding my bike with my daughter and sometimes my husband. We usually go to the park, swing, and play. Then, on the way back we stop by the parlor to get some ice cream/bagels/ donuts depending on the time of the day and the weather.
Q: What is something most people might be surprised to know about you? I was once a very introverted person. It took a long time for me to come out of my shell, thanks to a lot of colleagues I call friends in the OTDI. Now I enjoy meeting people and learning about them.
Q: Favorite place to eat in Columbus?  I love North Star Cafe and Brassica.
Q: Favorite quote? "Little drops of water and little grains of sand make the mighty ocean." 
As I am becoming older, I realize that quote makes sense in both ways, as if it is a metaphorical anadrome. i.e., If you keep taking little drops of water and little grains of sand, it will deplete even the mightiest of oceans one day.
Q: Do you have a favorite book or movie? I do not read much, but my favorite book is "Man's Search for Meaning" by Victor Frankl. I also like "The Anatomy of Peace: Resolving the Heart of Conflict." My favorite movies are The Godfather Parts 1 and 2.
Q: Give three adjectives that best describe yourself. I consider myself resourceful, collaborative, and tenacious. Thanks to my daughter, I am also learning to be assertive.