Employee Spotlight
July 2021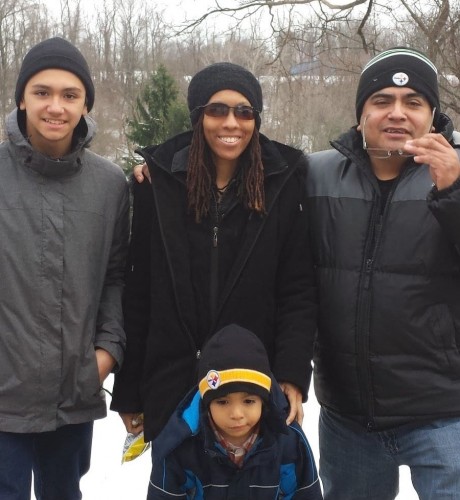 Meet Richelle, a business analyst who enjoys working with her "Fin Fam." From PeopleSoft to Workday, she's seen her fair share of major system implementations in her nearly 20 years with Ohio State. When she's not supporting customers at Ohio State, she enjoys supporting her local community and spending time grilling out with family. This Pittsburgh native is a big Steeler's fan, but if you need a change of subject, be sure to ask her about her run-in with chicken pox!
Q: What is your role at the university? Business Analyst, Enterprise Project Support Team, Finance
Q: How long have you worked at Ohio State? Since August 2001. It's crazy it will be 20 years in August!
Q: Have you worked on any large projects since you've been here? In October 2001, I was asked to be a Functional Analyst for the PeopleSoft implementation (go-live 2004). And my role on the Workday Project is by far the largest implementation that I have participated in at the university.
Q: What are you currently working on? I'm part of the Finance EBS support team. I primarily support Banking and secondarily support my teammates with Customer Accounts, Grants, and Expenses. There's also a frequent hat change when called upon to assist in other areas.
Q: What do you like best about your job? My team. We call ourselves 'Fin Fam' (that's Finance Family). I love stewardship and supporting people. I get to serve and support customers at the university everyday, and I work with a team that is sharp and I sense they genuinely share the same love of supporting others in our roles.
Q: Did you always know this is what you wanted to do as a career? Well, I wanted to be a surgical technician or a missionary. One could argue that my support role is much like supporting a surgeon and doing mission work.
Q: What was your very first job? My first job at 16 was in a Biology Lab at the University of Pittsburgh. I was helping to research mutation of various insects. I was 'all in' to studying science and medicine only to change my mind to become a business and accounting major the summer before attending college.
Q. Why did you choose to work at Ohio State? A professor I knew thought I would be a good fit working at The Ohio State University Research Foundation (now Office of Sponsored Programs) 'serving' in the research sector of the university. Two months into my career, I was asked to 'serve' on the finance upgrade team – that being the PeopleSoft upgrade.
Q. Of what are you most proud? Raised by a single mom, with 4 children, living in various low-income inner-city neighborhoods, I'm super proud to be the first in my family to graduate college.
Q: Can you tell us about your family? I'm married and my husband is from Oaxaca, Mexico. We have two boys, so that makes me Queen of our household. Our kids are bilingual (as are our food and sports).
Q. What kinds of things are you passionate about outside of work? I try to do a lot of church activities and community outreach like serving wherever our bible study small group leads us: serving in food pantries; cleaning up neighborhoods, schools and parks; visiting senior facilities; planting starters for gardens. Just a way to keep active in community outreach.
Q: Favorite place to eat in Columbus? On my deck. My husband is a grill master. When we open the grill, he grills out rain or shine. I think he missed his calling to be a chef.
Q: Where are you from originally? Pittsburgh, PA – yes, go Steeler's! I'm a diehard fan and all who know me harass me about it lol!!!
Q: What is your favorite place to visit? Miami Beach, Florida. I love people watching, the beach, the art, Ocean Drive, the night life!!
Q: If you could travel anywhere in the world, where would you go and why? I would visit every country in Africa. I've been to Malawi, Mozambique, Zimbabwe and what used to be Zaire. The country is beautiful, refreshing and relaxed.
Q: Do you have a favorite book or movie? Stephen King's, Misery, best ever book and movie.
Q: What is something most people might be surprised to know about you? I somehow contracted chicken pox at the age of 28, and as a result, I had about 40 days off from work. 'WFH' in 1996 was not a thing and technology for connecting to workplace networks was non-existent. It was budget season, so there were a lot of trips back and forth to my doorstep with work.