Employee Spotlight
August 2022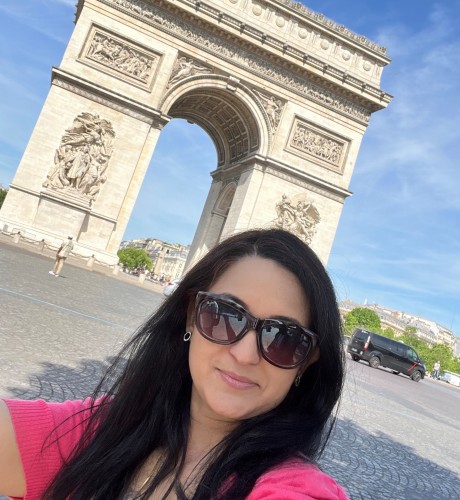 Systems Developer/Engineer, Access Management
Meet Radhika, a member of our Access Management team who is regularly onboarding and offboarding users to university systems. She enjoys cross-functional teamwork and working to improve the user experience. Originally from India, this Buckeye is living her dream serving others and working in the education field. After hours, you may find her enjoying her beautiful garden or decorating her house to bring the beauty inside.
Q: What is your role at the university? I am a Systems Developer/Engineer, Access Management
Q: How long have you worked at Ohio State? I have been a Buckeye and employee for four years.
Q: Have you worked on any large projects since you've been here? I have been a part of the Enterprise Project (Workday) implementation activities.
Q: What are you currently working on? I'm currently supporting Tableau, RAE and Workday systems. My typical day will be onboarding and offboarding users to systems for The Ohio State University.
Q: What do you like best about your job? I love to work with cross-functional teams to provide the best user experience and improve systems through automation.
Q: Did you always know this is what you wanted to do as a career? I always wanted to be in the education field serving the community.
Q. How did your career path bring you to work for us? I wanted to bring in my years of IT experience to education systems.
Q. Why did you choose to work at Ohio State? I found the best opportunity to provide my skills in the role that I am currently serving.
Q. Of what are you most proud? My family. My husband Sekhar, who is innovative and successful in whatever he does, and my daughter Anushka completed her pre-med with Neuroscience major at Ohio State and is making her way towards medical school. I'm also proud of my pet Mocha who can understand two different languages.
Q: What was your very first job? Abbott Labs as a Power Builder Programmer
Q: Where did you go to college? Bachelor of Science from Osmania University in India
Q: Where are you from originally? Hyderabad, India
Q: What is your favorite place to visit? Italy
Q: If you could travel anywhere in the world, where would you go and why? Mount Kailash, Himalayas, the most famous holy mountain.
Q. What do you do for fun outside of work? I always like to change and update my house with new décor as interior designing is a passion. Also, I love to spend most of my time outdoors and my beautiful garden.
Q. What kinds of things are you passionate about outside of work? Exploring new places, people, culture, and different foods.
Q: What is something most people might be surprised to know about you? I competed in a beauty pageant, Miss Osmania University, India.
Q: Favorite quote? "A disciplined mind brings happiness" - Buddha
Q: It's 9 p.m. on a Saturday. What are you doing? Relaxing in my gazebo.
Q: Give three adjectives that best describe yourself. Organized, passionate and hardworking