Employee Spotlight
September 2022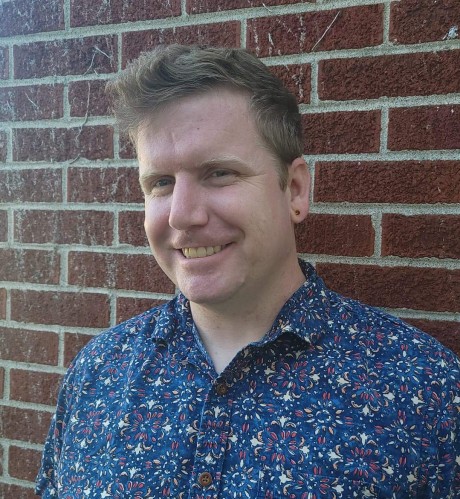 Desktop and Education Support Specialist
This month the spotlight shines on Pat Webster, a support specialist who's helping out our managed IT partners and onboarding new recruits to the IT Service Desk. This wannabe high school history teacher is still fulfilling his dream of working in academia. He is thrilled that his career path brought him back to his alma mater, solidifying his Buckeye for Life status. Off the clock, you might find this former juggler wrangling his many pets or relaxing with friends around a campfire.
Q: What is your role at the university? I am a Desktop & Edu Sup Specialist with the IT Service Desk
Q: How long have you worked at Ohio State? I came back to Ohio State full time in May of 2018, so a little over 4 years now.
Q: What does a typical day look like for you? My day can certainly vary. My primary responsibilities revolve around Office 365 escalations and our MITS users. I also assist with new agent training, knowledge management, and call center monitoring and general escalations.
Q: What do you like best about your job? With the training I am assisting with, I can help get people comfortable in their understanding of their new job. Many are entering the field for the first time, especially student employees, and I enjoy showing them what this could become.
Q. How do you create and innovate? I like to figure out ways to help people understand a concept or system. What works for one person might not work for the next, so that can be a fun puzzle to solve.
Q: Did you always know this is what you wanted to do as a career? I was planning on being a High School History teacher, but I found a student job in IT that changed that path.
Q. How did your career path bring you to work for us? A friend got me a student job in Student Life IT back when I was working on my History degree at Ohio State. I switched paths after graduation and got into the IT field full time. I just happened to be looking for a new job when my manager from the student days reached out about openings with the Service Desk.  
Q. Why did you choose to work at Ohio State? I may not have chosen to become a teacher, but I value education and have always wanted to work in IT for an educational institution. I knew I would want to come back to Ohio State if the opportunity arose, and my job hunt coincided with an opening at the Service Desk perfectly.
Q: What was your very first job? The first actual paycheck I ever received was for performing juggling and magic shows around Cleveland.
Q: Where did you go to college? Buckeye then, Buckeye now.
Q: What is your favorite place to visit? Any place at least semi-isolated from the sounds of the city. Maybe a forest with a river or a lake, an open field away from the city lights and the sounds of the highway.
Q: If you could travel anywhere in the world, where would you go and why? I would go back to Ireland. I went there with my family when I was younger, and we did a guided tour. I think I would like to go back sometime with a little less structure. Also, I find overcast skies with a slight rain to be agreeable.
Q. What do you do for fun outside of work? Do you have any hobbies? I like getting my dogs to the dog park as much as possible, and I try to stay active at the gym. When the weather is right, I enjoy getting out of town to a campsite with friends. As a break from IT and staring at screens I have also gotten really into understanding how farming equipment works…look, lockdown was weird for all of us.
Q. What kinds of things are you passionate about outside of work? Mental health awareness is very important to me. It's been a rough couple of years for everyone, and we can all afford to give ourselves a break.
Q: What is something most people might be surprised to know about you? People tend to laugh in disbelief as I count the number of animals that are in my house. 2 dogs, 4 cats, 2 guinea pigs, a crested gecko, an armadillo lizard, 6 snakes, and a freshwater fish tank.
Q: Favorite place to eat in Columbus? Nicola – an Italian restaurant by Sawmill and Bethel.
Q: Best concert you've ever been to? I've seen my favorite band Streetlight Manifesto close to a dozen times. All of them are the best concert I've ever been to. 
Q: Favorite quote? "There's no need to sharpen my pencils anymore. My pencils are sharp enough. Even the dull ones will make a mark." – Ze Frank
Q: Do you have a favorite book or movie? It wouldn't be an exaggeration to say that reading The Lord of the Rings at a young age set my life and interests in an interesting direction. The series has its own shelf on the bookcase.
Q: It's 9 p.m. on a Saturday. What are you doing? On a good Saturday you can find me around a fire with some friends in someone's backyard or campsite.