Employee Spotlight
July 2020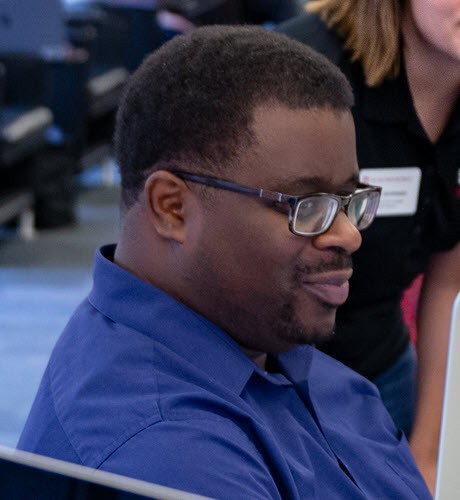 Staff Training and Development Coordinator
Meet Marvin, a training developer who's been with our unit for a decade and counting. He originally came to Ohio State's Department of African American and African Studies Community Extension Center. He knew the university would be a great place to continue to grow and develop his communication, training and technology skills. Family and religion are top priorities, as well as sports and exploring the great outdoors. Outside of Mount Hall, you might find Marvin stopping in at Hyde Park for date night or escaping to an island for a family vacation.
Q: What is your role at the university? I serve as a Training Developer on the Marketing, Communication and Training team. 
Q: How long have you worked at Ohio State? I have worked at Ohio State for 15 years. For six years, I served as a Technology Program Coordinator with the Department of African American and African Studies Community Extension Center, located on the Near East side of Columbus. I have been with the OCIO for 10 years.
Q: Have you worked on any large projects since you've been here? I have served as a Change Analyst for several PeopleSoft upgrades to the Student Information System (SIS) and for several business units for the Enterprise Project.
Q: What are you currently working on? I am currently working on a project developing content for a new Administrative Resource Center which will house documentation and information for users of multiple Ohio State University systems. A typical day may involve collaborating with a customer within the OCIO or across the university to document steps for the creation of a quick start guide or job aid or updating existing documentation as a result of a system change or new release. I may also provide quality control support for an OCIO developed BuckeyeLearn course that is in production.
Q: What do you like best about your job? My position allows me to be an advocate for users of the enterprise applications that are managed by the OCIO. I enjoy working with colleagues on my team, within the OCIO and across the university to ensure we have developed effective support tools for each type of user of the university systems, whether it be student, faculty, staff and in some instances, parents. 
Q: Did you always know this is what you wanted to do as a career? When I was a teenager, I thought I wanted to be a businessman working in Accounting or Finance. After taking a business communication course in college, I discovered that I really enjoyed writing and communication and changed my outlook.
Q. How did your career path bring you to work for us? I worked in communications/public relations for many years after college and had developed a growing interest in training and technology. I knew Ohio State to be a place where I could continue to grow and develop in these areas. I found a position at the university that provided an opportunity for me to continue communication while also creating and delivering instructor-led technology training and programing to underserved communities to help address the digital divide.
Q. Why did you choose to work at Ohio State? It's in my genes. My maternal grandparents and many relatives before me have served in various positions at the university. As a graduate of Ohio State, I was comfortable with the campus community.
Q: What was your very first job? My first job after college was with City Year. At the time it was a brand-new start up youth service organization in Columbus. City Year is designed to recruit young people to devote a year of service to their community, almost like an urban version of the Peace Corps.
Q: Where are you from originally? I was born in Columbus and grew up on the city's west side.
Q: What is your favorite place to visit? Hilton Head, SC. I love visiting the island and staying close to the beach. There are so many fun things you can do on the Atlantic Ocean or on the island. There are biking trails to get you around the island. We've had some of our best vacation experiences there! Last year I went on a three-hour kayaking trip. I always look forward to going again.  
Q: If you could travel anywhere in the world, where would you go and why? Hawaii, or the Virgin Islands. Both locations have several islands you can visit. The cuisine and tropical environment along with the many sightseeing opportunities offer a lot to explore.
Q: Can you tell us about your family? My wife Cynthia and I have been married for 18 years. We have a daughter Natalie who is 15 and a son Nicholas who is 10. We recently became caregivers to my father in-law who lives with us.
Q. What do you do for fun outside of work? Do you have any hobbies? I enjoy spending time with family and friends, gardening, traveling and exploring new places including nature and getting a good walk at a park. I am an avid sports fan of the Buckeyes and most pro sports.
Q. What kinds of things are you passionate about outside of work? My relationship with my Lord and Savior Jesus Christ. It keeps me grounded and centered each day and gives me peace and hope during challenging times.
My family. As I get older, the more I realize the value of preserving and continuing to build strong relationships within our family, not just for myself but also for the benefit of the present and future generations.
Q: What is something most people might be surprised to know about you? As a student, I was a tour guide and Orientation Welcome Leader (OWL).
Q: Favorite place to eat in Columbus? Hyde Park Steakhouse and Black Point Prime Steakhouse & Seafood. Both restaurants are run by Hyde Park. The service has always been great, and the steak, seafood and dessert selections are good.
Q: Do you have a favorite book or movie? A couple of favorite movies, Boomerang with Eddie Murphy and Halle Berry and Two Can Play that Game with Morris Chestnut and Vivica Fox.
Q: It's 9 p.m. on a Saturday. What are you doing? Enjoying time with family, watching a movie or sporting event on TV or playing a board game, or out on a "date night" with my wife and our friends.
Q: Give three adjectives that best describe yourself. Practical, Diligent, Reliable