Employee Spotlight
March 2021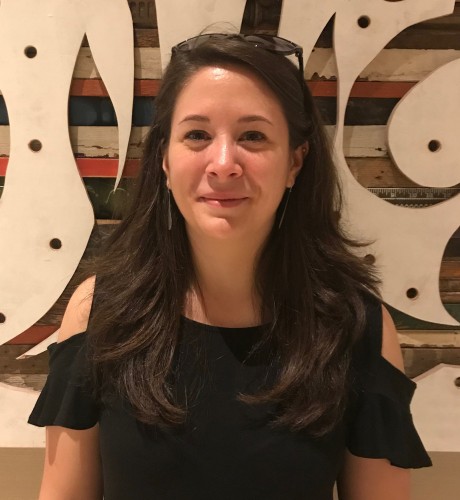 Meet Katelyn, an interior designer for classroom spaces around Ohio State. This former ice cream scooper is now shaping the way students and instructors learn and teach through her inspired layouts. She always dreamt of being an interior designer, and an internship with Student Life sparked her interest in a career in higher education. When the weather warms up, you might catch her at a local brewery or jetting off to Ireland to immerse herself in her family's heritage.
Q: What is your role at the university? I'm a Space Design Strategist for the Learning Environments team in the Office of Distance Education and eLearning. I am an interior designer and I focus on the Classroom Pool rooms.
Q: How long have you worked at Ohio State? 3 years
Q: Have you worked on any large projects since you've been here? I worked with the Digital Flagship team to design their Mobile Design Lab. Last summer I also lead the efforts to physically distance about 400 classrooms per COVID guidelines in just a few short months.
Q: What are you currently working on? I am currently working on our summer refresh project, which is renovating 10 classrooms in Caldwell Lab and a few informal student lounge spaces utilizing research and design inspiration from Ohio State Interior Design students. This will involve scoping the needs of every room, drawing new layouts, selecting and writing specifications for materials and furnishings, obtaining quotes, ordering products, and managing the project with the general contractor, furniture dealer, and our university partners. Some days are very heavy on specifications and paperwork, while others are more creative and involve putting together color palettes and inspiration.
Q: Did you always know this is what you wanted to do as a career? Interior design was something I wanted to do since I was young. I was always trying to rearrange spaces and come up with creative ways to make a space unique.
Q. How did your career path bring you to work for us? I actually interned at Ohio State during college in the office of Student Life. I was able to work on the South High Rise residence hall project and it piqued my interest in higher education design. After college I got a job at a local furniture dealer where I specialized in education and healthcare design. I worked on several projects that applied active learning principles to classrooms and brought new ideas for underutilized spaces. When I was told about this position, I was immediately intrigued at the opportunity to work on classrooms at a larger scale and help change the way students learn and instructors teach here at Ohio State.
Q: What was your very first job? An ice cream shop
Q: Where did you go to college? Columbus College of Art & Design
Q: Where are you from originally? Toledo, OH
Q: What is your favorite place to visit? Seattle, WA. I took the most amazing vacation there last year and I can't wait to go back someday.
Q: If you could travel anywhere in the world, where would you go and why? Ireland. My family takes our Irish heritage pretty seriously, and it was always a dream of my Mom's to visit there someday, so I'd love to go in honor of her.
Q: Can you tell us about your family? I am the youngest of four kids; I have one brother, two sisters. I recently got engaged and am looking forward to getting married next February. I also have a dog, Levi, and two cats – Dexter and Ayla.
Q. What do you do for fun outside of work? Do you have any hobbies? I love exploring all of the craft breweries in Columbus and hanging out in my backyard with friends during the warmer months.
Q: Favorite place to eat in Columbus? Highbank Distillery or Preston's Burgers
Q: Best concert you've ever been to? Florence + the Machine
Q: It's 9 p.m. on a Saturday. What are you doing? Likely at home with my fiancé, binge watching a show on Netflix