Employee Spotlight
December 2022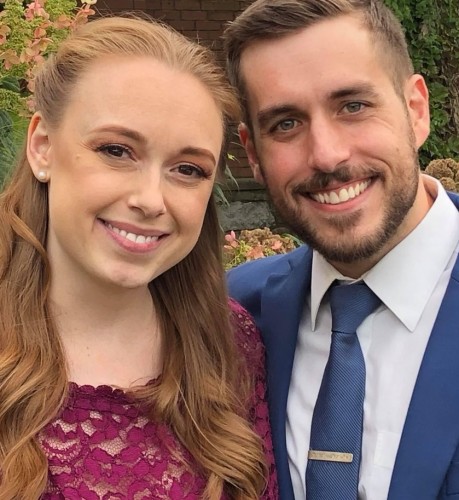 Senior Access Management Administrator
Get to know this month's spotlight employee, Jordan Keel. On a typical day he is managing access to key systems, providing members of the university the permissions they need to complete their work. This Buckeye for Life graduated from Ohio State and has been working at the university for 10 years. He originally considered a path in dentistry, but after working in the Registrar, his dreams shifted to a career in higher education. Outside of working hours, you may find him rocking out on drums or guitar or enjoying time at home with his wife and fur baby.
Q: What is your role at the university? I am a Senior Access Management Administrator for the Office of Technology and Digital Innovation.
Q: How long have you worked at Ohio State? I have worked at Ohio State for 10 years. I started in the Registrar's Office and came over to OTDI about 7 years ago.           
Q: Have you worked on any large projects since you've been here? I was involved in the launch of the Workday project by consulting on Access Management best practices and helping to establish user entitlements before go-live.
Q: What are you currently working on? Currently my team and I are processing roughly 600 changes to Workday accounts each week. We support many other systems as well, helping users across campus to have the permissions they need to perform their job duties.
Q: What do you like best about your job? The best part of my job is helping others. My team and I get to see firsthand how impactful we can be by helping system users obtain the access that they need to complete their work. We contribute daily to the successful function of the university across the many units and colleges.
Q: Did you always know this is what you wanted to do as a career? My initial goal was to go to dental school. After college, I found an opportunity to work in the Registrar's Office as the university's Classroom and Logistics Coordinator and that sparked a desire to continue working in higher education. I enjoy the environment and the people, which makes going to work highly enjoyable on a daily basis.
Q. Why did you choose to work at Ohio State? I graduated from Ohio State in 2010 and I loved the atmosphere. I am very lucky to have been able to remain close to the university through the years.
Q. Of what are you most proud? I am most proud of my family. My wife Morgan and cat Percy keep me grounded and provide more support than anyone deserves.
Q: What was your very first job? My very first job was processing orders at a beer and wine warehouse where I eventually earned a certification as a forklift operator.
Q: Where are you from originally? I was born and raised in Toledo, OH.
Q: What is your favorite place to visit? St. Thomas. We have only been once but I would love to return.
Q: If you could travel anywhere in the world, where would you go and why? I would love to visit Hawaii one day.
Q. What do you do for fun outside of work? I love all things music-related. As a hobbyist, I am both a drummer and a guitarist. I am always looking for new music and new instruments and gear.         
Q: Favorite place to eat in Columbus? It's a hard tie between Wario's Beef and Pork and Aladdin's – depends on the day.
Q: Best concert you've ever been to? The best concert I've ever been to was Steely Dan and Steve Winwood at Riverbend in Cincinnati. We may have been some of the youngest people there, but the environment and music were second to none.
Q: Favorite quote?  "You miss 100% of the shots you don't take."
   - Wayne Gretzky
      - Michael Scott
Q: Do you have a favorite book or movie? Gone in 60 Seconds