Employee Spotlight
May 2021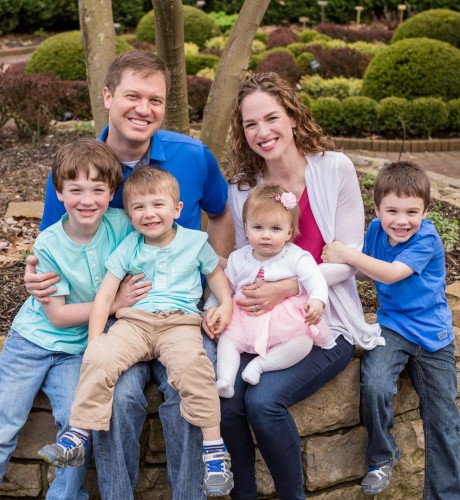 Senior Manager of Managed Services
Meet John, a Buckeye for Life that graduated from Ohio State and immediately wanted to come back to start his career. In over a decade with the university, he worked his share of major projects and now manages three different teams. This father of four enjoys working with a variety of people and building relationships with his colleagues. When he's not on campus or on Zoom, you might catch him spending time with his family on a beach or planning a European excursion.
Q: What is your role at the university? Senior Manager of Managed Services within the Office of the Chief Information Officer (OCIO).
Q: How long have you worked at Ohio State? Since November of 2008, so almost 13 years.
Q: Have you worked on any large projects since you've been here? I've worked on many projects: from the implementation of Research in View, Adobe Connect, Mediasite, Top Hat, the Carmen transition from Desire2Learn to Canvas, and most recently updating our Managed Services applications to work with Workday.
Q: What are you currently working on? I lead three teams within OCIO: Enterprise Document Management (OnBase), eSignature (DocuSign), and BuckeyeLearn. Currently, my personal focuses are working with the EDM team and partners on a successful OnBase upgrade and working with the BuckeyeLearn team and BuckeyeLearn Steering Committee on a Training Governance process.
Q: What do you like best about your job? The relationships I build and the people I work with.
Q. How do you create and innovate? Read, ask questions, and make sure to reserve time on my calendar to think about what is needed and "what's next."
Q: What was your childhood dream job? Pro Football Player
Q. How did your career path bring you to work for us? I'm an Ohio State lifer so far in my career. I graduated from Ohio State and knew I wanted to remain in Columbus, close to family and friends. I applied for any Ohio State job I thought I could do, and even some I was not so sure about. I was hired to run customer support and training for OSU:pro, a faculty promotion and tenure system I supported with Vedu Hariths and Joan Qin who are within the Office of Distance Education and eLearning (ODEE). From there, our team moved over to the Carmen Support team under Travis Ritter and I joined the BuckeyeLearn team in 2016.
Q. Of what are you most proud? My family
Q: What was your very first job? I mowed lawns when I was a kid in the summer for money and was a cashier at Giant Eagle in High School.
Q: What is your favorite place to visit? The beach…any beach.
Q: If you could travel anywhere in the world, where would you go and why? Italy and Germany. My family heritage comes from those countries and I would love to experience the places and culture. I have never been overseas.
Q: Can you tell us about your family? My wife and I met at Ohio State when we were sophomores. We have four children (3 boys and then a girl) that keep us busy.
Q. What do you do for fun outside of work? Read, watch movies, fish, golf, and spending time outdoors with family and friends. I am a huge football fan and love the Buckeyes and Buffalo Bills.
Q: What is something most people might be surprised to know about you? My grandfather, father, myself, and my firstborn are all John Votino.
Q: Favorite place to eat in Columbus? Nasty's in Hilliard – my dad's sports bar. The food is actually quite good.
Q: Best concert you've ever been to? I've been to a lot of great concerts, I think it is too hard to pick the best, so I'll go with my first concert when I was young. I went to see Hootie & The Blowfish with my parents at PromoWest Pavillion (now Express Live!)
Q: Do you have a favorite book or movie? The Lord of The Rings series is the answer for both.
Q: It's 9 p.m. on a Saturday. What are you doing? Backyard patio fire in our fire pit.