Employee Spotlight
November 2020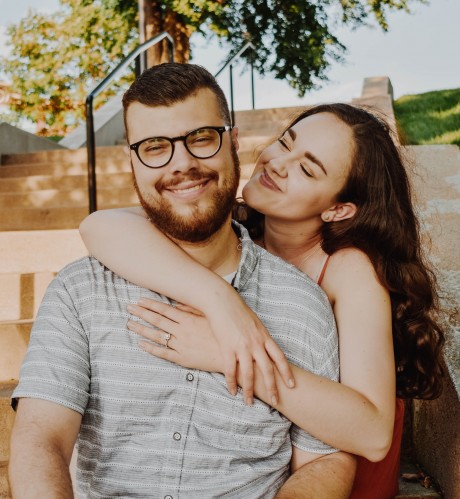 Associate Applications Analyst
Meet Jacob, an application analyst who's creating new solutions for our MITS partners. Former "food champion" and member of the Geek Squad, he was swayed by other Ohio State employees to join the university. This Mansfield native is a music enthusiast and proud husband and father of two [fur babies]. Outside of work, you might catch him at Rock City, Condado Tacos or escaping to Colorado for some fresh scenery.
Q: What is your role at the university? I am currently working as an application analyst with the managed applications team.
Q: How long have you worked at Ohio State? I have been with Ohio State for three and a half years.
Q: Have you worked on any large projects since you've been here? The largest project I have had the opportunity to work on was the migration of the bus system that we did recently. It was on old servers and using old software, so we did a complete overhaul.
Q: What are you currently working on? Currently, I am working on a migration of a system that the university uses for energy billing and energy meters tracking. Along with that migration I have a quite a few other projects that I am tackling with Transportation and Traffic Management (TTM).
Q: What do you like best about your job? The thing I like the best about my job is the flexibility and support I get from the customers on projects I get to work on.
Q. How do you create and innovate? In my role at the university, I get to create and present solutions to Managed IT Services (MITS) customers that may not have been thought of or is new to them.
Q: Did you always know this is what you wanted to do as a career? Growing up I always dreamed of being a professional guitarist for a large name group.
Q. How did your career path bring you to work for us? I moved down to Columbus from Mansfield after I graduated high school in search of finding a music group to get into and to explore a bigger city. I started working at Best Buy as a customer service rep and actually moved over to the Geek Squad after a manager saw me troubleshooting and saving the returns we were getting. From there I met a few awesome guys that worked part time at Geek Squad and full time for Ohio State and they gave me direction and knowledge to get myself in.
Q. Why did you choose to work at Ohio State? I chose to start working at Ohio State for the amount of growth and opportunity that was available at such a large institution. I had no idea the level of roles that the university had for IT before meeting the guys at Geek Squad.
Q. Of what are you most proud? I am most proud of the family that my wife and I are beginning to build together.
Q: What was your very first job? I worked at Taco Bell as a "food champion." I'm not sure if it is still called that today but it was when I worked there.
Q: Where did you go to college? Believe it or not, I have never attended a college for schooling. Maybe one day I will take some music classes or something though!
Q: What is your favorite place to visit? My favorite place to visit is Colorado. My aunt and uncle have a place in Breckenridge and the mountains are absolutely beautiful.
Q: If you could travel anywhere in the world, where would you go and why? Italy. I'd love to visit the Colosseum, the Venice Canals and try all the amazing food.
Q: Can you tell us about your family? I was raised with a younger brother (he works at the university as well) and a younger sister. I am married to my wife, Savannah, and have two dogs named Dan and Pippin.
Q. What do you do for fun outside of work? Do you have any hobbies? A lot of my time outside of work is spent with my wife, working on music or serving at my church, Rock City.
Q. What kinds of things are you passionate about outside of work? Music has always been something I have been passionate about. Oh, and good food!
Q: Favorite place to eat in Columbus? Either Condados or Ted's Montana Grill.
Q: Best concert you've ever been to? I would probably have to say Coheed & Cambria or M83.
Q: Favorite quote? "If you want to change the direction of your life, change the declaration of your lips." - Steven Furtick
Q: Do you have a favorite book or movie? My favorite movie is Toy Story.
Q: It's 9 p.m. on a Saturday. What are you doing? Rehearsing for Sunday services or watching TV with my wife.
Q: Give three adjectives that best describe yourself. Kind, Confident, Creative