Employee Spotlight
February 2021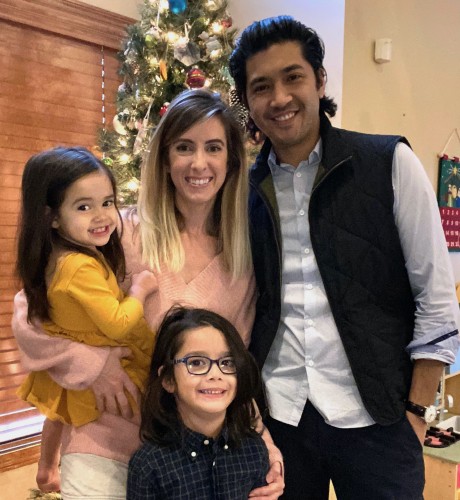 Senior Web and Mobile Developer
Say hello to Carmichael, a senior web and mobile developer. This former Target employee traded his red polo for something Scarlet and Gray and has worked for Ohio State for over 10 years now. In nice weather, this father of two can be found hitting the trails with his family. While working from home, he's also brandishing his barista skills—ask him about his latte art the next time you see him on Zoom!
Q: What is your role at the university? I'm a Senior Developer for the Web and Mobile Team.
Q: How long have you worked at Ohio State? In total, I've worked here close to 8 years full-time, but I spent an additional ~3 years working part-time as a student with the College of Arts and Sciences.
Q: Have you worked on any large projects since you've been here? I've worked on a couple over the years. Some of the biggest would include the push notification framework for mobile apps and a redesign of the freshman orientation application when I was with SIS, and Compass while here with the Web and Mobile Team.
Q: What are you currently working on? Currently, I'm supporting our applications transition with the Workday go-live by monitoring production issues and identifying fixes or improvements where needed. Once things become stable, I will be moving on to adding additional features to applications like Compass.
Q: What do you like best about your job? It'd be a combination of the work-life balance that I have here and the people that I get to work with.
Q: Did you always know this is what you wanted to do as a career? I knew I wanted to do something in the IT field, but for a while I thought I'd be doing something in the realm of Network or Security.
Q: What was your very first job? I was a Sales Associate and Cashier at Target.
Q: Where did you go to college? The Ohio State University!
Q: Where are you from originally? Born and raised here in Central Ohio.
Q: If you could travel anywhere in the world, where would you go and why? I'd probably travel back to Cinque Terre in Italy. I traveled through Europe on my honeymoon and ended up spending a week there. Everything was beautiful there, and the food was great!
Q: Can you tell us about your family? My wife, Erika is a Columbus-based photographer. We have two kids, Bodhi and Luana. Bodhi loves everything related to dinosaurs and fossils while Luana has officially reached the Baby Shark phase (Baby Shark, Doo Doo Doo!). We have two pets, Leo, a Cavalier King Charles Spaniel and Picasso, a Budgie Parakeet.
Q. What do you do for fun outside of work? When we're not exploring parks and trails with the kids, I like to play volleyball, golf and snowboard. I probably consider coffee more of a hobby at this point, rather than just a beverage. I'm currently learning the ins and outs of pulling espresso shots, pouring latte art, and looking into roasting my own coffee beans.
Q: Favorite place to eat in Columbus? It really depends on what I'm in the mood for, but a couple of my favorites would be Moy's and Los Guachos Taqueria.