Employee Spotlight
April 2022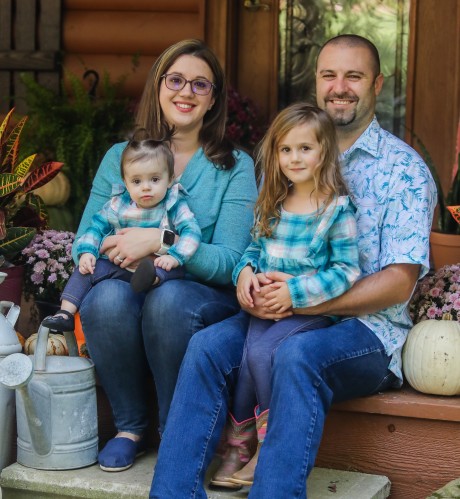 Get to know Ashley, a business analyst supporting our friends at COTC in Newark. She loves learning new things every day and she's not afraid to question what's possible. This wannabe teacher has always been tech-savvy, so a career in higher education that led to OTDI is a great fit! Ashley chose Ohio State because she wanted to continue to grow and to have an employer that values health and well-being. Speaking of well-being, off the clock you might find her at the nearest waterfall getting her Zen on.
Q: What is your role at the university? I serve as a Senior Business Analyst for the Newark Applications Team, providing support for OTDI MITS Customer Central Ohio Technical College's (COTC) ERP (Colleague), various ancillary systems, and am the product owner for Ellucian CRM Recruit and Ellucian CRM Advise, COTC's Admissions and Advising Software tools.
Q: Have you worked on any large projects since you've been here? I was a supporting cast member related to ERP Integrations for COTC's transition to Canvas LMS.
Q: What does a typical day look like for you? I'm not sure I have a typical day…it's a balance of:
Granting access for new COTC Employees and Students

Researching new solutions for requests that come in to support COTC's Business Needs

Networking with other Ellucian customers to gain perspective on best practices

Working with Ellucian Product Owners to champion institutional needs

LOTS of Zoom/Teams Sessions to work on projects, train, and troubleshoot customer needs


 
Q: What do you like best about your job? I quite literally learn something new every day. It's a great balance of a steady routine mixed with new adventures to explore as technology rapidly changes.
Q. How do you create and innovate? A lot of what I work with is low-no code and more plug and play SaaS systems with limited rights to develop. Being in a position to solve critical problems, even if it's just finding an easier way of accomplishing a task, I have to get creative about how to do this. I ask a LOT of questions and push customers to think about an ideal end state, even if it's not feasible or out-of-the-box. I don't like to take something off the table as not possible; I keep asking questions and connecting the dots until a viable option presents itself.  
I take all ideas that are beyond the scope of internal development and send the feedback to product development teams and network with other institutions frequently to establish support. Sometimes the only control I have over development is advocacy, so I build and maintain strong connections with a large network to influence product direction.
Q: Did you always know this is what you wanted to do as a career? I didn't even know I could do this as a career (really, even until a few years ago…)! I've always been tech savvy and people-oriented, which this role is a great mix of the two. As a child the dream was quite standard of being a teacher. At one point I thought I wanted to be a Forensic Psychologist.
Q. How did your career path bring you to work for us? I started college heading in the direction of Forensic Psychology. I quickly shifted gears, continuing the Psychology pathway but was heavily involved as a student on campus. I was a Resident Assistant, Orientation Leader, and a Student Health Advocate. This led to a Master's in Higher Education Administration. I started in Student Affairs, specifically Residence Life and Campus Activities. After two-years of full-time employment as a Director of Campus Activities, I wanted something more routine and ended up at COTC as an Academic Advisor. This morphed into becoming the Early Alert Coordinator, followed by the Coordinator of Retention and Completion Initiatives (in a 3-year span). I helped implement both the CRM Recruit and CRM Advise system from the functional side and fell in love with the technology. When the OTDI opening for this position became available, I went for it.
Q. Why did you choose to work at Ohio State? There is so much potential for growth as a person and professional here. I have never worked anywhere that values the health and well-being of their employees to the extent that this institution does.
Q: Where did you go to college? I have a Bachelor's in Psychology and Health Science from SUNY Brockport and a Master's of Higher Education Administration and Student Personnel from Kent State University.
Q: Where are you from originally? Watertown, NY
Q: What is your favorite place to visit? Any place with a waterfall. I'm at most at peace around water in general (but ironically, am not a strong swimmer).
Q: If you could travel anywhere in the world, where would you go and why? I have a really long list of places around the world I would like to see. Most recently, the wish has been to go to the Canadian Province of Yukon to see the Northern Lights.
Q. What do you do for fun outside of work? Do you have any hobbies? Taking care of two kiddos under 5 largely consumes most of my free-time. Otherwise, I love playing board games, playing around with my Cricut machine, cross stitching, walking in nature and kayaking.
Q: What is something most people might be surprised to know about you? I'm incredibly rusty, but I can play the xylophone
Q: Favorite quote? "We are where we are. If we keep moving, we'll be somewhere else. We'll know when we get there." -Michael J. Fox – Always Looking Up: The Adventures of an Incurable Optimist
Q: It's 9 p.m. on a Saturday. What are you doing? I have two kids under 5…there is an honest chance I may be asleep. If I'm still awake, I probably have a glass of wine and am either: watching a movie or playing a board game.