Employee Spotlight
July 2022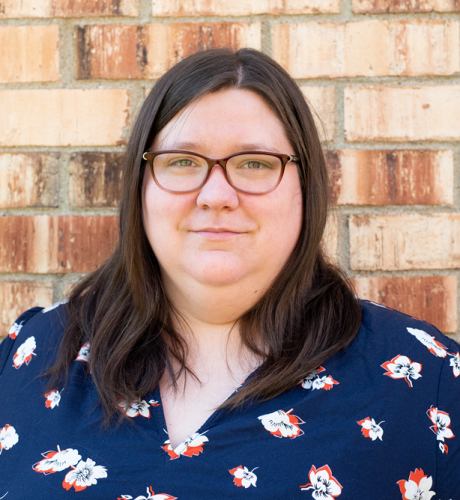 eLearning Support Analyst
Say hello to Amanda, a technical writer and customer supporter. She loves working in OTDI because she doesn't feel like just a cog in a machine. This former sailboat steward with culinary and theater degrees cruised into Ohio State as a student employee and has been working for the university full-time for over eight years. Outside Mount and her Zoom window, you might find her grabbing a bite at Lindey's or diving into a new game or craft.
Q: What is your role at the university? I'm part of the Carmen eLearning Support team in the Learning Systems department. I act as tier two and three support for our tools as well as being the technical writer for our documentation.
Q: How long have you worked at Ohio State? I've been a full-time employee at Ohio State a little over eight years, but I was a student employee before that starting in 2010.
Q: What are you currently working on? What does a typical day look like for you? Currently I'm working with groups across OTDI to launch the new ePortfolio tool being used primarily in the GE Bookends courses and trying to prepare our userbase for the introduction of a new quiz tool in the Canvas learning management system. My typical day is a blend of working support tickets and working on crafting documentation for these new tools.
Q: What do you like best about your job? One of my favorite things about working for OTDI is that this organization never forgets that we're all people that have lives outside of work. I came here from an IT department that was really out of touch with their employees, and only cared about the bottom line. It's refreshing to be someplace that supports me in my current role, where I am in my life, and where I hope to go in the future. When doing IT support, it's easy to feel like a cog in a machine, but I've never felt that way here.
Q: Where did you go to college? I have an associate's degree from the Culinary Institute of America, and a bachelor's degree in Theatre from Ohio State. 
Q: Where are you from originally? Gambier, OH
Q. What do you do for fun outside of work? Outside of work I like to play video games and board games. I made friends with people at one of my first student jobs at Ohio State, and I continue to meet with them regularly to play all kinds of games. I'm also an avid crafter and love to try any medium, though I focus mainly on embroidery and needle felting.
Q: What is something most people might be surprised to know about you? I lived and worked on a sailboat for three months after graduating from culinary school. I was the steward for a pilot schooner called the Spirit of South Carolina and it was one of my most favorite adventures.
Q: Favorite place to eat in Columbus? I love the food scene in Columbus, so this is an almost impossible question, but push comes to shove, Lindey's in German Village would be my pick.
Q: Best concert you've ever been to? I've seen Brandi Carlisle in concert several times and she is one of the best live performers I've ever experienced. Otherwise, it's a tie between Paul McCartney and Crosby, Stills, Nash, & Young.
Q: Favorite quote? "I don't want to write a book, I want to have written a book." – my late father, in the best expression of my family's brand of intellectualism.