Employee Spotlight
August 2021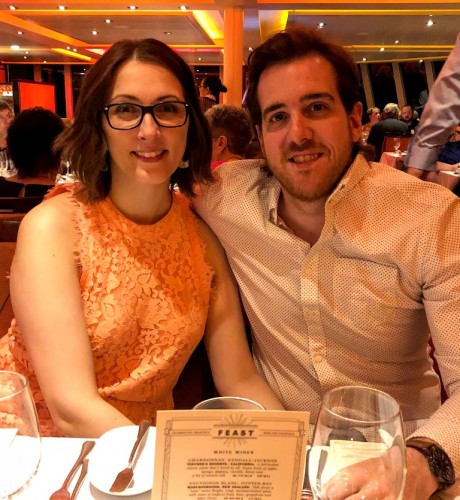 Meet Aimee, who went from student cook to Fiscal Officer in her 16 years at Ohio State. She balances the books as part of the shared services team, allowing her to work with every part of our organization. When she's not approving purchase and travel requests, she's likely gaming or enjoying time at home with her husband and furbabies. You might even catch her in Gerlach Hall on a Saturday, working towards her MBA (and avoiding yard work).
Q: What is your role at the university? I am currently a Fiscal Officer on the finance team. I spend a lot of my time reconciling the general ledger to ensure that all our money is appropriately allocated. I also review and approve purchases and travel requests.
Q: How long have you worked at Ohio State? I started working for Ohio State 16 years ago as a student cook at Courtside Café at the RPAC (I even met my husband there). I've been full time with the university for over 11 years and with the department for 6.
Q: What do you like best about your job? I really enjoy being on a shared services team. This allows me to work with every part of the organization. I have been able to meet a lot of different people and work with teams that I might not otherwise.
Q. Of what are you most proud? I am currently working on my MBA from the Fisher College of Business. It's something I had always wanted to pursue and finally worked up the courage about 2 years ago to apply. Only 1 year to go! (Pro tip: Taking Saturday classes will get you out of yard work :) )
Q. What do you do for fun outside of work? My husband and I are old souls and love to cruise. We have had 3 cruises cancelled and rescheduled during the pandemic, but we are holding out hope that the one we have planned for November for the Southern Caribbean will still be safe to attend.
Q: What is something most people might be surprised to know about you? While I generally don't advertise it, I do like to play a little Call of Duty. I'm not very good so mostly I end up frustrated but for some reason I keep going back. I think anyone else who plays can probably relate.
Q: Favorite quote? "I wish there was a way to know you're in the good old days before you've actually left them."
Q: Can you tell us about your family? I spent the last year and a half at home with my husband Ben and our 3 rescue cats, Lewis, Jaime, and Dexter. Working from home has also allowed me to safely visit my mom in Cleveland for extended periods of time.