Through the Kitchen
Written by Cindy Leavitt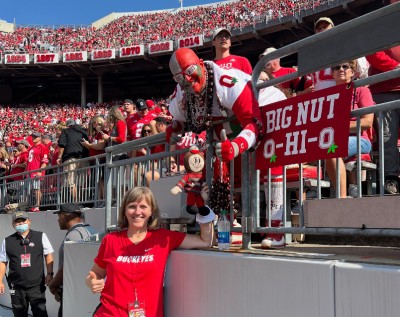 I have seen Colin Powell speak a couple of times and admire him as a leader. One thing that he tries to do when he goes to any event is to enter or leave through the kitchen to see and talk with the people who are supporting the event.
Last week, I got a chance to "walk through the kitchen" when I attended my first Ohio State football game in Columbus.
I started very early in the morning at the police station attending a series of coordination meetings watching the many branches of law enforcement work together to make sure everyone was safe as they attended the game and activities surrounding it.
I got a tour from the Ohio State IT team of the technical infrastructure that allows the game to be recorded. The vast wifi and cellular complex which supports electronic ticketing and enables fans to send pictures and texts from the stadium during the game. I toured the TV trucks and talked with one video technician who showed me how he compiled the video vignettes that I expect when watching a game. They were also broadcasting the game in 4D, requiring tons of additional cameras to be installed and synched.
I visited the locker rooms and recruiting room and saw the tributes to the scholar-athletes and winning teams. I talked with security guards and ushers (a couple of them were in their 80s) about their dedication and joy in working at the games.
I attended the skull session, which is free to the public, where the band puts on a mini-concert and the coaches rally the crowd. I was on the field as the band performed the Ohio script and the star-spangled banner. I was christened as a Buckeye by the Big Nut super fan as he gave me a Buckeye necklace.
The small part of the game that I actually watched was from the press box where dozens of reporters from around the world reported on the game.
Attending the game "through the kitchen" opened my eyes and made me aware of the incredible amount of dedication, hard work, and skill by hundreds of people that were invisible to me before.
How can you pass "through the kitchen" at work, at home, and in your community?
Who and what are you not seeing?