Establishing New Rituals
Written by Cindy Leavitt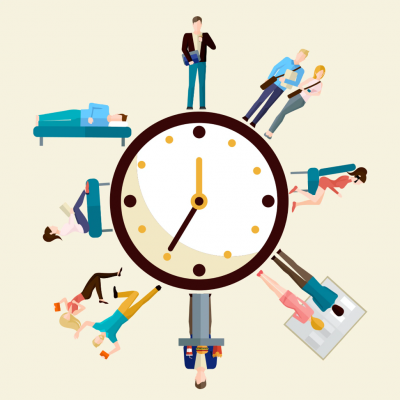 One of the reasons that we have habits and rituals is because they are efficient and save energy. COVID disrupted most of our routines and reestablishing new habits takes active thinking and effort. Luckily, we humans are quite resilient and adaptive, and we quickly establish new routines and rituals. I met with my previous IT team at Temple to examine our new rituals and explore what we would like to continue.
Here is a list of the top six things the group came up with:
Take mental/physical breaks during the day. Whether it is walking, exercising or just taking a break or lunch. This was identified by over half of the group as the most important ritual they would like to continue. We have tried to establish a rule for 25 or 50 minute meetings to insert time to stand up between Zoom meetings. Many people are taking individual or family walks a couple of times each day.
Meet virtually instead of in person. We have found that holding virtual meetings in some cases is more productive than face-to-face meetings. Surprisingly, this is especially true of really large meetings, like our all staff meeting with more than 200 people that we have been holding via Zoom. The casual and interactive nature of the gathering and online break-out rooms provide more meaningful connections. Not having to travel also means that more people are able to attend.
Have daily stand-ups with your team. This Agile and DevOps practice was already being done in several groups, but it was quickly adopted by many as the most efficient way to coordinate and feel connected with the team. Our leadership daily stand-up is scheduled for 15 minutes every day and I find the connection and coordination at the beginning of the day is invaluable.
Continue to work remotely some of the time. Many jobs that we previously thought of as requiring us to be on campus can be done very effectively from off campus. Our help desk, desktop support and classroom support teams are an example. We have integrated all of these teams into the virtual workflow and are able to resolve user issues more quickly. Last week, our customer satisfaction score was a perfect 100%, up from the average of around 95% pre-COVID. This was even more remarkable because students were in the middle of final projects and exams.
Take time for family and friends. The line between professional and personal life has disappeared in this COVID world. We are regularly seeing children, spouses and pets pop into our virtual meetings. The downside of this is that we can never get away from work. Setting boundaries around work and prioritizing family and friend time was very important to our team.
Insert fun into work. Virtual happy hours, gaming sessions, dance parties or just adding humor into our work life has helped our teams and made everything better. I have a colleague that sends me a COVID Cartoon of the Day. It helps to start your work day with a solid belly laugh.
Although we are apart, we are united in a global experience that is allowing us to rethink how we did things in the past. What rituals have you and your teams established that are helping you get through this pandemic?