Latest ALX Cohort to Save Students Over $350,000; Several Projects Also Address Racial Justice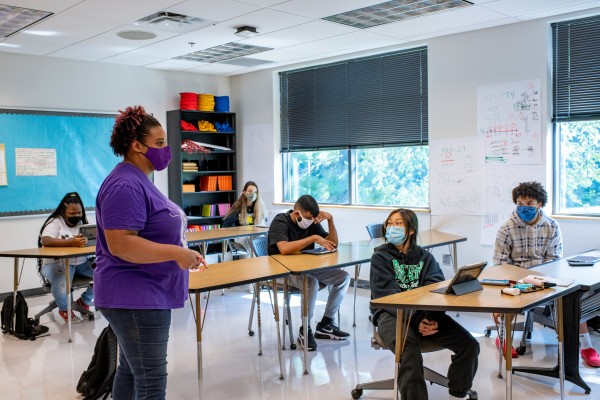 The Affordable Learning Exchange (ALX) has awarded grants to 16 instructors in 2021. This new cohort is planning to use those funds for a wide range of projects, such as combining multiple sources into one free textbook, utilizing existing open resources, creating "lending libraries" of necessary tools and introducing diverse voices and anti-racist assessments. This group is focused on affordability for students, with over half also planning to address diversity, equity and inclusion in their courses. Their work over the next year will result in over $350,000 in direct savings to students!
Select each name below to learn more about the latest affordability and racial justice* projects at Ohio State:
Mark Bender* - East Asian Languages and Literatures
Bender will use his grant winnings to create a free Pressbook for his course, East Asian Humanities. Though there is an existing free course package, it is in need of an update with an eye toward racial justice. Work will include the reformatting of ten content modules that include video/graphics, note packets, recorded lectures and supplementary texts.
Melissa Foster* - Communications
Foster will utilize grant winnings to create a Pressbook for Media and Citizenship. This multi-section text will cover content not currently available in one textbook. Work will also include interviews with media professionals and literature reviews utilizing peer-reviewed research. The Racial Justice component of this grant award will add racial justice topics to each of the 12 units in the course. This will include videos, discussions and assignments centered around stereotypes, propaganda, voter suppression, implicit bias and marginalization in journalism.
Helen Gamova - Math (Newark)
Gamova will work to replace the textbook in Trigonometry with free resources created by the Ohio Open Ed Collaborative. These materials were designed to replace textbooks in high enrollment courses across the state of Ohio. Work will also include the addition of videos and a redesign of assessments.
Hazal Gumus Ciftci* - Design
Students in design courses often struggle to purchase the materials needed for the Industrial Design Studio. This grant award will allow Gumus Ciftci to purchase the tools necessary for a "Creativity Lending Library" that will loan drawing and prototyping tools as well as virtual reality equipment. The Racial Justice portion of this grant award will be used to include readings and case studies written by African American and BIPOC authors. Students will also be informed of issues around racial justice by exploring the Designer's Critical Alphabet, which introduces critical theory concepts and vocabulary into the design studio.
Elizabeth Kirby* - Psychology
Kirby will work with a cross-country group of psychology faculty to replace the traditional course textbook with a free Pressbook. Grant funds will be used to coordinate image and instructional slide production for Introduction to Behavioral Neurosciences course. The Racial Justice Grant portion of this award will be used to ensure that the expertise and work of BIPOC members of the Neuroscience community are prominently featured. Introductions will be added for each author to ensure students are aware of the broad representation of authorship of the book they are reading.
Kish will utilize grant funds to replace the text for Precalculus with Review (a two-semester course) with a free textbook utilizing free resources created by the Ohio Open Ed Collaborative. These materials were designed to replace textbooks in high enrollment courses across the state of Ohio. Professor Kish, along with a team of Ohio State math faculty, will also create homework assignments and assessments that coordinate with new course materials.
Leeann Lower-Hoppe* - Education and Human Ecology
Lower-Hoppe will work to replace two required textbooks with one free text built from open resources. Work will also be done to fully redesign the course by utilizing backwards design to align course objectives to assessments and content. The Racial Justice portion of this grant award will be used to add anti-racist framework to the course assessments and to include more BIPOC authors into course content. These refined assignments will give all students an opportunity to engage in critical analysis and reflection.
Yinglin Ma* - John Glenn College of Public Affairs
Ma will utilize the Racial Justice Grant Funds by teaching theories and frameworks related to racial justice. This includes theories that help explain how racial injustice may be normalized and perpetuated in a public affairs context, especially in the nonprofit sector. By learning these theories and seeing examples in case studies, students may feel more confident in understanding the reasons behind racial injustices and see themselves as change agents towards racial justice in a variety of social contexts.
Karen Macbeth - Education and Human Ecology
This grant award will be used to create a free textbook for a new course, which is designed to train Graduate Teaching Associates to teach writing in the ESL Composition Program. The unique nature of this course lends itself well to a custom text that organizes resources from a variety of authors. Macbeth will use Pressbooks as the hosting platform for content.
Andrew Millar* - Music (Newark)
Millar intends to use his Racial Justice Grant to continue work from his 2020-21 Project for Music 1101, Music for Non-Majors, at the Newark Campus. Now that Millar has made the text for his course free, he plans to add musical pieces from African American musicians to show their impact on music across the centuries. Work will include changes to assignments and student discussions.
This grant award will be used to create a photography equipment lending library for Introduction to Photography. Since this is a GE course, students from both Art and non-Art majors are interested in the course, but some express financial hardship in purchasing necessary supplies. Funds will be used to purchase cameras, bags, storage cards, lenses and other beginner camera equipment.
Shen will create a Pressbook of open access readings, video clips, podcasts and other instructional materials on the subjects of information design and students' wellness support for three offerings of Design Fundamentals. This will also include a gallery of student work demonstrating the intersection of these two areas.
Zhenjie Weng* - Education and Human Ecology
Weng intends to use grant funds to create a Pressbook which covers a range of free resources as well as linguistic, cultural and social context needed for Advanced English as a Second Language. This course, for international graduate students, is intended to teach the basics of plagiarism in the U.S. context as well as academic culture and norms of social communication. The Racial Justice Grant portion of this award will include updating online reading resources on racial justice issues about African Americans and other marginalized groups in the U.S. context. These assignments will be due weekly to increase student awareness around how to be allies and how to support marginalized populations.
Susan Williams* - English
Williams will work with university libraries to reduce the cost of materials in her course, Special Topics in 19th Century U.S. Literature, by at least 25%. Williams will create a new course unit on "Visualizing Slavery in American Literature" that will include a digital gallery of photographs of enslaved persons and accompanying contextual information and activities. The Affordable Learning Instructional Consultant will connect Williams with a subject matter librarian to assist in the search for materials.
Winstead will produce a Pressbook anthology of content that is both engaging and accessible, with online editions of six classics of English vampire literature. This work will also include University Libraries, who holds many of these works in special collections. Funds will also assist in the hire of a GRA who has researched vampire literature.
Norah Zuniga-Shaw* - Dance
Zuniga-Shaw will utilize Racial Justice Grant Funds to create inclusive pedagogy rubrics on Carmen, review and expand references and create shareable resources from work done in the class. Outcomes will center around an increased learning efficacy for a range of learning styles, student evaluations, enhanced learning communities and more risk taking by students.