How the College of Social Work Grew Its Online Master's Program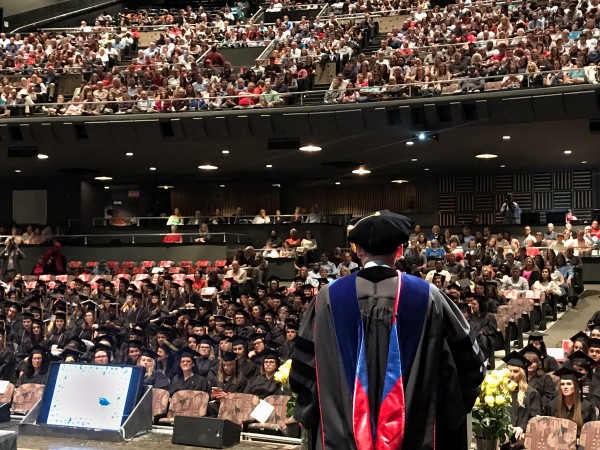 It's May 3, 2019, and Mershon Auditorium at The Ohio State University is packed nearly to its capacity of 2,500 for Evening of Recognition, the College of Social Work's annual graduation event. When Dean Tom Gregoire takes the podium, he begins with a few words about cellphone use. 
"In this day and age, nobody can go too long without checking their phone," Gregoire says. The audience laughs. But he's not asking anyone to turn off their devices. Just the opposite, in fact. 
"So when you're checking your phone tonight, check it with us. Students, tweet us your best memories. Thank your loved ones. Family and friends, tweet us who you are proud of. Tweet us a selfie. Fill the screen with smiling faces. Tweet us what's next for you. Tweet us here. Your tweets will show up on the screen while we are awarding our degrees later this evening."
While this embrace of technology might have shocked some family and friends in attendance that night, it's right in character for Gregoire. In 2012, just three years into his tenure as dean, Gregoire oversaw the deployment of iPads to all college faculty and staff. It was a full six years before the launch of Ohio State's Digital Flagship program, which provides iPads to all incoming Ohio State first-year students.
Gregoire's tech-friendly welcome was certainly no surprise to at least 28 of the students in attendance that night. That group represented just under a quarter of the school's spring 2019 graduates who were enrolled in the online Master of Social Work (MSW) program. The event was live-streamed via YouTube to 80 people in eight states and four countries, and the recording has racked up nearly 900 views in the three months since then. 
Expanding Access 
Launched in 2017, the online MSW program grew to nearly 300 students by the end of the 2018-19 academic year. And the increase isn't due to lowered admission standards. When College of Social Work admissions officers evaluate applicants for their MSW program, applications for those applying to attend online and those applying to attend on-campus are not differentiated. 
Two years later, Gregoire and his staff are considering what has made the online MSW program so successful to date and whether more growth is in their future. 
"We don't have a view that this is 'higher ed light.' This is a high-quality education," Gregoire said, sitting in his office on the third floor of Stillman Hall. He waves off the idea that online education will ever fully supplant face-to-face instruction. "My way of thinking is we had this very limited model for how we'd teach people, and now we've expanded it."
Providing a high-touch, supportive environment for students – regardless of where they attend classes – has been a top priority for the College of Social Work for years. First accredited in 1919, Ohio State's College of Social Work is the oldest continuously accredited public social work program in the United States. Under Gregoire's leadership, the college launched hybrid online/in-person undergraduate offerings at Ohio State's regional campuses in 2013.  
By that point, MSW programs at Ohio State's four regional campuses had already been eliminated due to competition from online programs from schools such as the University of Southern California. USC's online MSW program was one of the first, and easily the largest. Still, Gregoire wasn't dissuaded from tossing his school's metaphorical hat in the ring. 
"We had this hypothesis: We wouldn't be first, and we wouldn't be the biggest, but we could be the best," Gregoire said. Everything the college has done to build the online master's program has flowed from that theory. 
"We wouldn't be first, and we wouldn't be the biggest, but we could be the best."

— Dean Tom Gregoire, College of Social Work
"The message is really clear: We're not going to have these separate programs," said Program Director Lois Stepney. A student who is out of state doesn't have the same chance to come to in-person office hours, but advisors or instructors who are available and willing to meet online help level the playing field.  
"There are ways we can bring equity to the students regardless of where they're situated," Stepney said, adding that Gregoire's leadership and emphasis on creating a welcoming environment for online learners set the tone for the entire college. 
Taking It to the Web 
The unified approach starts at recruitment with Outreach Program Coordinator Bryanna Stigger. In addition to attending recruitment fairs and holding in-person information sessions, Stigger hosts online information sessions every other month. Putting a face to the program, even if only through a computer screen, creates a connection for students and introduces them to an actual person who can answer their questions, instead of forcing them to rely on a Frequently Asked Questions page on a website.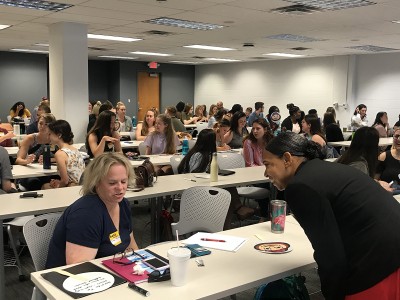 Supporting Stigger in her efforts to reach upwards of 1,000 students each recruiting cycle are a cadre of current students and alumni volunteers known as CSW champions.
"Their role is to share their experiences in the program and to provide mentorship, guidance and support to both current and prospective students," Stigger said. The champions assist at recruiting events, open houses and even new student orientation.
At an Ohio State Recruitment Summit in June 2019, answers from a panel of graduate and undergraduate students to the question of how they chose which school to attend backed up the notion that a personal connection with the university is a driving factor. Each student explained how a connection with a friend, instructor, potential advisor or mentor or staff member played a role in their decision to attend Ohio State.
Similarly, dozens of online articles on topics such as "How to choose a grad school" tell students to research and contact potential faculty advisors and talk to students who are currently involved in the program. A 2014 study of student affairs graduate students by a researcher at the University of Nebraska-Lincoln showed discussions with a mentor in the field was the second-most significant factor influencing what school students decided to attend. Discussion with recent graduates and current students was also considered highly important.
Also important, especially for adult learners? Flexibility. Ohio State offers two tracks for MSW students – a traditional plan, which can be completed in two years full-time, or an advanced standing plan. The Advanced Standing Alternative Plan (ASAP) can be completed in just three semesters and is available to those who have a bachelor's degree in social work and meet a handful of other eligibility requirements. Both options are open to online students.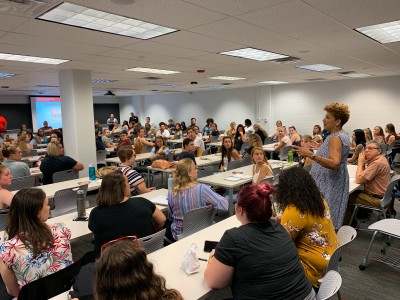 Once online students are admitted to the MSW program, they have the choice of whether to attend program orientation events in-person, online or both. The live online orientation session lasts about 90 minutes and includes a welcome from Gregoire, Assistant Dean Lisa Durham and other program staff, including Academic Counselor Brittany Ward, who works exclusively with online students, and Director of Field Education Katie Klakos.
Field placements are critical for MSW students, who must complete either 672 or 920 hours of field work before graduation depending on whether they're in the ASAP program or traditional MSW. The college's history in central Ohio means local placements are relatively easy to secure. But for online students, who may be located out-of-state or even out of the country, making those connections can be challenging.
Just recently, Gregoire approved the addition of a full-time field coordinator position that will focus on finding placements for online students and supporting these students as they transition into a field practicum setting. It was a move he was initially hesitant to make, but he acknowledges that investing in student support is an integral part of scaling up the program.
"When we created the expectation and obsession that these students will have an experience at least as good as the students (in the traditional program), then the charge to folks is 'what do you need to do that?' And I told my folks at the outset that this is leading to a lot more revenue, so I'll invest in it, if It's a good idea," Gregoire said. 
In order to find an appropriate placement, field coordinators spend an entire semester getting to know each student's strengths and career goals and seeking out an appropriate agency match. "The role of the online field coordinator is to develop the relationship with that student and connecting with an agency that's willing to accept them and provide a high-quality learning experience," Klakos explained.
Having a designated coordinator for online students allows that individual to provide ongoing support throughout the students' time in the program.  
"It's a little different than how we typically work, but we really see the value in limiting the number of people the student must engage with during the process," Klakos said. "There's value in having that one person you've built a professional relationship with from the start. We don't have any quantitative data (yet), but our qualitative data shows that students feel extremely supported when they feel like they know who that person is and that they're accessible for ongoing field needs." 
For online MSW alumna Tomitha Zimmerman, having a field coordinator who was available and understanding was essential – especially when her first placement didn't work out and she needed to find somewhere new to complete the remainder of her hours.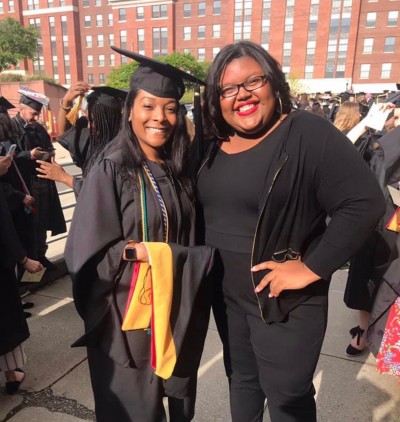 "She listened to my concerns, validated my feelings and assisted me in my transition," Zimmerman said. "We talked weekly via video conference until my new placement was secured.  Her concern of me getting the best experience and education during this time was really felt. She spoke to the field director and placement supervisor and really advocated for me. I couldn't believe someone I never met was so invested in me."
Ohio State's online MSW students also have a dedicated academic advisor who offers online advising hours, including in the evenings. Experts in the field of higher ed student success say individualized attention can make a dramatic difference in retention and graduation rates. Here in central Ohio, Franklin University recently reported during a lunch-and-learn event that adding individualized coaching in the form of one-on-one meetings, texting and email increased the school's first-year retention rate from 37% to 50%.
Offering increased student support makes a difference at Ohio State, too, Stepney said. Only 23 of 676 MSW students (both online and in-person) withdrew or took a leave of absence during the 2018-19 academic year. And six of them have already reactivated back into the MSW program.
"I think the most helpful form of support (the college) gives me is how quick my advisors respond to me when I have questions," said Paige Gillam, an online MSW student who expects to graduate in May 2021. "The Ohio State University is a large family, and the social work program is kind of like your immediate family. The program provides so much support, and I've met so many helpful people."
To help create that feeling of family Gillam describes, each student entering the program is offered membership in a private Facebook group exclusive to their academic year cohort. "We want to create a sense of community for all of our students," Stigger said. "It's nice to have a centralized location online – a place where they can have discussions."
The college is experimenting with various approaches to increase engagement with and among online students. Each week, they receive an email with tips for physical, social and mental health. Once a semester, Gregoire hosts Tea with the Dean; online students are mailed bags of tea and are encouraged to log on at a particular time and chat with Gregoire about whatever is on their minds. Similarly, the college offered $10 gift cards for pizza to those who attended a virtual "pizza party" this spring.
Ohio State's online MSW students have a dedicated academic advisor who offers online advising hours, including in the evenings.
"I think that these efforts are (in line with) how we've tried to connect with students on campus, so we're trying to extend that to the online environment," Stepney said, admitting that participation has fluctuated widely. "I think there's more to learn in terms of what is effective, but I feel like these efforts are viewed by our students as sincere attempts to help make the world a little bit smaller for those who want to participate."
From Gregoire's perspective, teaching students to cultivate a sense of balance is as much a part of the college's mission as class-based learning, especially in a profession as prone to "burnout" as social work. The U.S. Bureau of Labor Statistics projects 16% growth in the number of social work positions available by 2026 – but what good would it do to graduate trained professionals if they're unwilling or unable to stay in the field?
"We've long thought that the experience we provide transcends what's happening in the classroom. We're interested in educating the whole student. We're preparing students to do really hard work, really stressful work," Gregoire said. "The whole experience has to include personal wellness and a sense of community."
A Bump in the Bottom Line 
Though the college could continue to scale – increasing both online enrollments and revenue – Gregoire says they're not planning to grow the online MSW program much, if at all, at this point. Total enrollments for the MSW program (both online and on-ground) in autumn 2019 were 791– an increase of 348 students from autumn 2015, just before the online program was launched.
"We have not sat down and said 'What's the hard cap on it?', but I don't think we'll grow a lot," Gregoire said. "That seems like a decent number for us."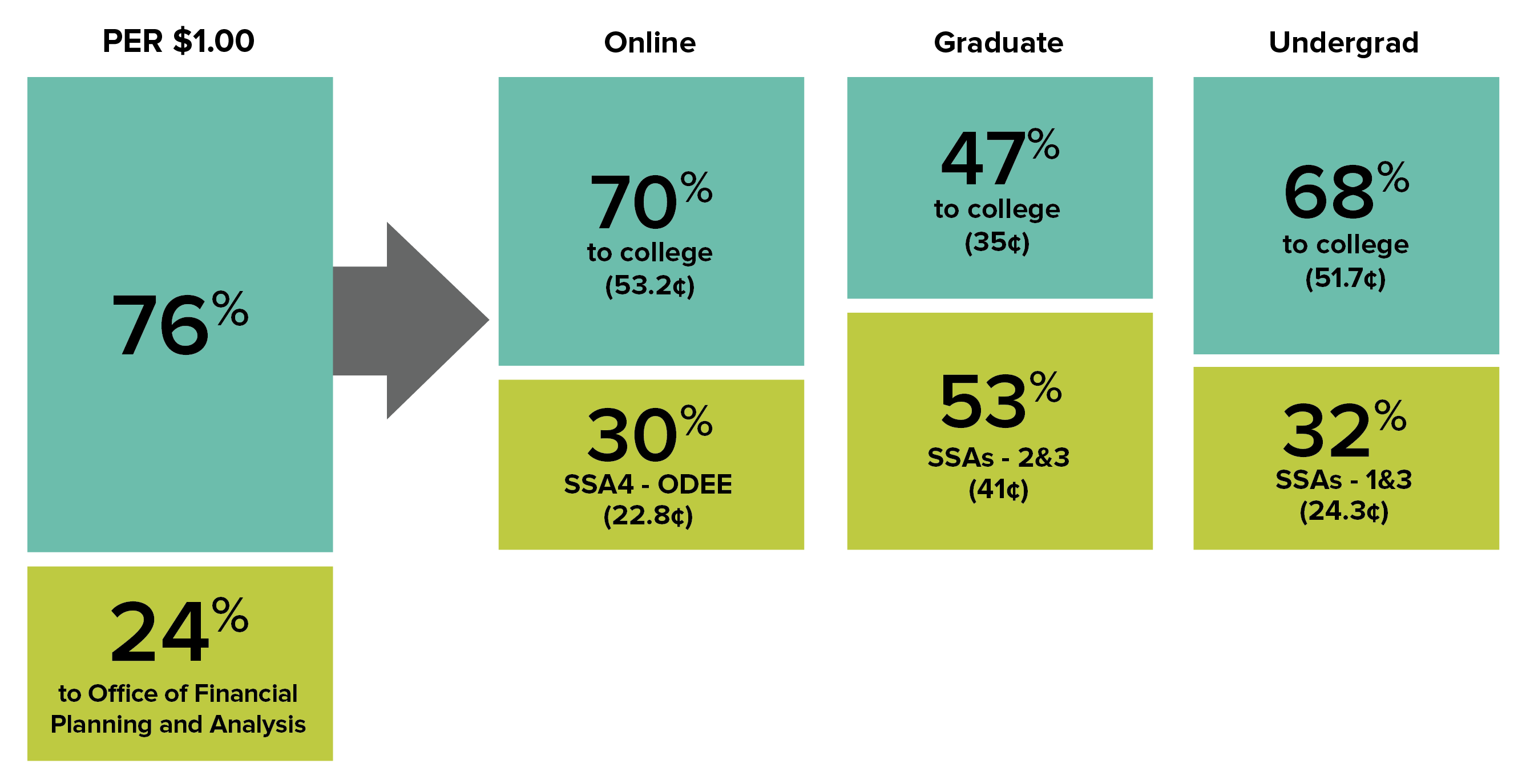 The college's growth in number of students has, of course, come with a financial upside. Ohio State's budget model incentivizes offering online programs by offering colleges 53.2 cents of every tuition dollar from fully online students at every level – compared to 51.7 cents per tuition dollar for in-person undergraduate students and 35 cents for graduate students. To put it another way, colleges earn 52% more gross revenue from an online graduate student than from a graduate student who takes classes in person.
Though the college has yet to see some of that revenue – Ohio State unit budgets run on a three-year average, one-year lag from revenues generated – online MSW students contributed more than a 20% cumulative increase in the college's annual budget allocation over the last two fiscal years, said College of Social Work Chief Administrative Officer Melanie Dheel.
Online masters students contributed more than a 20% cumulative increase in the College of Social Work's annual budget allocation over the last two fiscal years.
"We've seen great return on our financial investment, but we're educators. Nothing we do should just be done because there's a revenue basis for it," Gregoire said. "You shouldn't do it if you're rolling out some second-tier product to drive up revenue."
Gregoire's commitment to online education has never been about the money. Instead, he points to Ohio State's obligation as a land-grant university to educate the public.
"Under our budget model, you will make money. But it should be because you think there are other ways to engage students," Gregoire said. "There are other ways that people learn, and part of your fulfillment of your land-grant mission is to connect with people who otherwise don't come here."
In a 2016 survey of nearly 800 non-traditional students by Barnes & Nobel College Insights, 69% said that the ability to take online classes is important. Non-traditional students, who are much more likely to work full time or have dependents, often need the flexibility of taking classes asynchronously. Gregoire is quick to draw a connection from the educational needs of his social work students to the needs of the populations they will serve once they're part of the workforce.
"Tonight, if someone at 11 p.m. has questions or concerns about domestic violence, they're not going to call anybody. They're going to go online, and the data shows that. So that's a whole community we need to train people to work and practice in," Gregoire said.
Meeting students where they are – that is, online –  is at the foundation of the student experience for the program. 
"If we can do it anybody can do it," Gregoire said. "You build a good team, create some enthusiasm, reflect on what your beliefs are about online education and go forth."