Gjestvang Recognized for Commitment to Teaching & Learning through Technology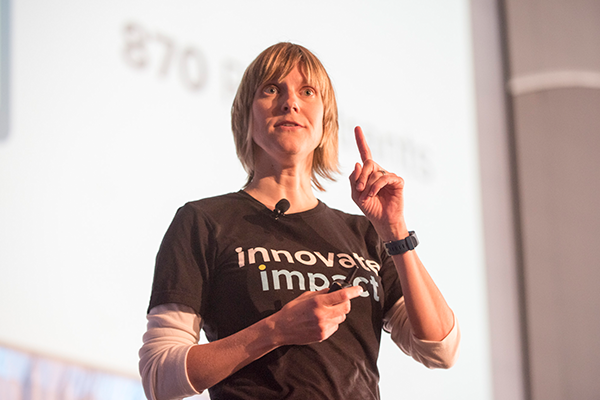 For her "exemplary achievement implementing digital technologies in support of the teaching and learning process," Associate Vice President Liv Gjestvang has been named EDUCAUSE's 2017 Rising Star award recipient.
EDUCAUSE annually celebrates leaders in the education and information technology communities whose efforts advance the common good. The Rising Star award is bestowed to a person for their:
Exemplary achievement in implementing digital technologies to support the teaching and learning process
Commitment to growing the profession, and promoting issues of diversity and inclusion
Cultivation of an environment of collaboration, motivation and collective success
Gjestvang joined the Office of Distance Education and eLearning's Learning Technology team in 2006 and has been serving in her current role since June 2013.
"As a leader, watching a member of your team evolve into an exemplary leader themselves is incredibly rewarding," said Mike Hofherr, Vice President and Chief Information Officer. "Liv was one of the first people I met when I joined Ohio State and I immediately recognized her unparalleled commitment to digital learning, and her unwavering commitment to building a culture of positive energy and shared success."
Excerpt from the EDUCAUSE website:
Since her arrival at Ohio State […] Liv has led or participated in many inventive educational technology projects.

Liv's energy, enthusiasm, and commitment to higher education resonate through every project in which she is involved. She led Ohio State's Innovate conference, featuring best practices in digital pedagogies, and supported the launch of Ohio State's open content initiatives. She was coauthor of College Ready Ohio, a $13.5 million grant from the Ohio Department of Education in support of college readiness for high school students in Ohio, and Liv and her team launched Ohio State's Affordable Learning Exchange, a campus-wide partnership to reduce the cost of course materials with the commitment of saving $10 million by 2020. Liv's dynamic, collaborative leadership style and contributions were recognized by Ohio State when she received the university's Distinguished Staff Award in 2014.

Liv's work at Ohio State is complemented by her service as a member of the Board of Directors and the Teaching and Learning Group of Unizin, a consortium of eleven universities working to improve the teaching and learning experience through digital environments. Liv also helped to shape what is now the Big Ten Academic Alliance Learning Technology Leaders (LTL). Through her leadership in the alliance, she has created new partnerships to advance the topics of analytics, flexible learning spaces, and the pedagogies that support those spaces.

Liv's demonstrated track record of sustained service and increasing impact in higher education and her collaborative and innovative style of leadership are clear evidence of her position as a rising star in the profession. Click here to read the full release
EDUCAUSE collaborates with colleges and universities, corporations, foundations, government and other nonprofit organizations to transform higher education through the use of information technology. "The EDUCAUSE mission is one shared by Ohio State," said Bruce McPheron, Provost of The Ohio State University. "Liv's commitment to technology-enhanced learning has helped to drive the evolution of the student experience on Ohio State's campus."
When asked about the Rising Star recognition, Liv said, "Throughout my career, I have always worked on projects that are important to me personally. Finding the connections between my role, opportunities for change in higher education and the things I care most about has been really motivating for me. I have the privilege to work with a rapidly growing team of people at Ohio State who inspire me every day. People who are creative and passionate about what they do, who are hard-working, and committed to the university and our team. I think it's the combination of passion, vision and strong partnerships that has helped me grow."
The Office of Distance Education and eLearning (ODEE) is passionate about the role technology can play in teaching and learning at Ohio State. ODEE's mission is to provide faculty, staff and students with an enriched educational experience through technology-ready classrooms, centralized learning systems, innovations in technological pedagogy, and distance education opportunities.
If you need additional information about programs, affordability, grants and resources, reach out to odee@osu.edu.