Employee Spotlight
May 2017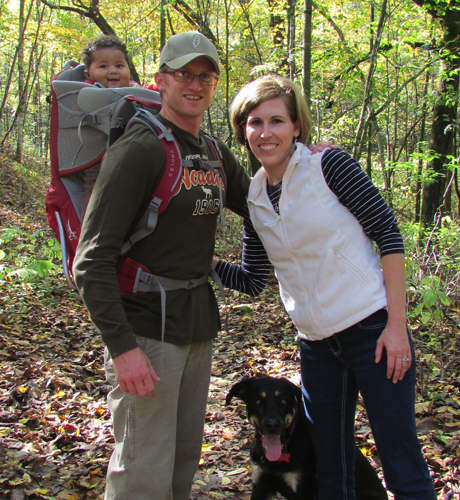 Technical Lead, The Enterprise Project
He's made a career wrangling major upgrades for the university's human resources, student and financials systems. He was lured away from the Air Force by the mission of the university (and the tuition benefits), and we hooked him for 11 years and counting. After hours you can find him wrangling his two rugrats or playing bass.
Q: What is your role at the university? I am a Director in Enterprise Applications currently assigned as the Technical Lead on The Enterprise Project (aka Workday). I have spent much of my time implementing and upgrading our student, human resources and financials systems, which provide the backbone of system support to the staff, faculty and students that continue to push the envelope to make Ohio State a world-wide leader day in and day out. 
Q. How did your career path bring you to work for us? I was a Project Manager for the United States Air Force managing flight testing on an avionics upgrade project. I was half way through my MBA at Ohio State when I left the Air Force, and the lure of the tuition benefit led me to exploring work opportunities at Ohio State. My first job at the university was as a Project Manager on the Student Information Systems project and I have been working on projects in Enterprise Applications for the last 11 years. 
Q. What do you do for fun outside of work? A lot! To keep it short, my favorite activities include enjoying music (either gigging around town as a bass player or as a fan in the crowd), outdoor sports/activities (softball, snowboarding, wakeboarding and hiking to name a few) and quality family time (two little ones at home provide countless hours of entertainment!).
Q. On what project are you currently working? I am working on The Enterprise Project which is implementing a new, cloud-based ERP system (Workday) to replace our current Human Resources, Payroll, Student and Financials systems.
Q. How do you create and innovate? The nature of project work means we are constantly helping the university do something new. My goal for myself and my team is to push ourselves to explore opportunities to improve the way we plan, execute and deliver to meet the ever changing and evolving needs of the university.
Q. Why did you choose to work at Ohio State? As a member of the Armed Forces, I was committed to our mission and the people we served, and I found that similar passion in the Ohio State staff and faculty I worked with as a graduate student. During my job search, I found many employment opportunities and none that called me to their mission like The Ohio State University.