University IT Strategy
The University IT Strategy sets a common direction that will guide IT investments across the university over the next 5 years.
It is comprised a of 3 parts: foundation, environment, and focus areas. 
The IT Strategy is meant to be used as a "flag on the horizon" of sorts.  As units reach investment decision points in the investment areas, they should pursue the option that aligns them closer to the flag, not farther away from it. 
The IT Strategy is intended to guide IT investments made at ALL organizational levels including departments, offices, colleges, VP areas and OCIO.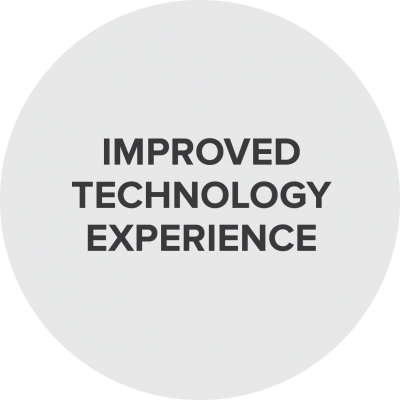 The quality of the faculty, staff and student experience should be a primary driver when making investments in technology.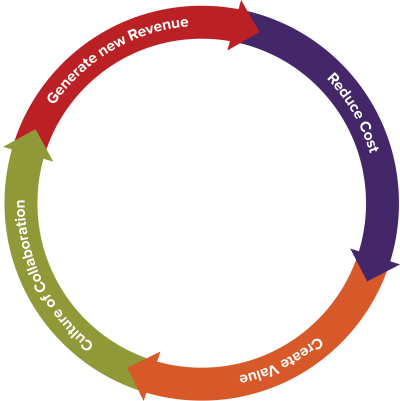 The larger environmental context that shapes how investments are made in the 7 areas requires that we:
Ensure that IT investments create value for students, faculty and staff
Collaborate as members of the IT community to adopt, improve and communicate the strategy
Support President Drake's vision to reduce operating costs and to generate new revenues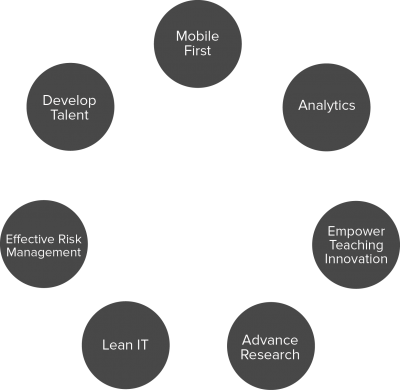 Mobile First: Embracing mobile devices as the primary way people interact with the university. Ensuring a seamless mobile experience both on and away from campus. 
Empower Teaching Innovation: Helping units to leverage services and tools that advance adoption of technology-empowered courses and program delivery models. 
Advance Research: Technology solutions should enhance the reputation of Ohio State as a national leader in research to increase our ability to attract top faculty and students.
Lean IT: Focusing on people, processes, and technology in order to reduce waste, variability, and inflexibility. 
Effective Risk Management: Ensure compliance with regulations, information integrity, confidentiality and availability.
Develop Talent: Our ability to continually deliver innovative technology solutions depends on the knowledge and skillsets of our IT staff 
Analytics: Analytics are an important consideration for the data available within individual systems and how they fit into the entire OSU data ecosystem. 
Is this a strategic plan?
The IT Strategy is not a strategic plan. It is a common commitment to coordinate investments across these 7 areas during planning activities by each unit or by groups of partnering units. 
Mike Hofherr, VP and CIO, OAA
Diane Dagefoerde, Deputy CIO, OAA
Bob Corbin, Sr Director Infrastructure, OAA
Helen Patton, Chief Information Security Officer, OAA
Steve Fischer, Sr Director, Bl and Analytics, OAA
Robert Griffiths, AVP Distance Education, OAA
Matt DeVore, Chief Information Officer, CFAES
Michael Chakerian, Sr Systems Manager, CFAES
Tracey Richardson, Sr Director, Service Management Office, Office of Academic Affairs
Joe Roush, Chief Information Officer, College of Education and Human Ecology
Timothy Smith, Chief Information Officer – ASC
John Link, Chief Information Officer, Student Life
Catherine Bindewald, Chief Information Officer, Vet Information Systems
Marsha Henfer, Chief Information Officer, College of Engineering
Jim Null, Chief Information Officer, Athletics & Business Advancement
Ronald Salyers, Sr Director of IT, Office of Academic Affairs
Brian Newcomb, Director of Technology, Process & Data Solutions, Office of Human Resources
David Kieffer, Sr Director Enterprise Applications, OAA
Want to learn more? Joe Roush, CIO of College of Education and Human Ecology, is leading University IT Strategy discussions across the university.