Employee Spotlight
December 2018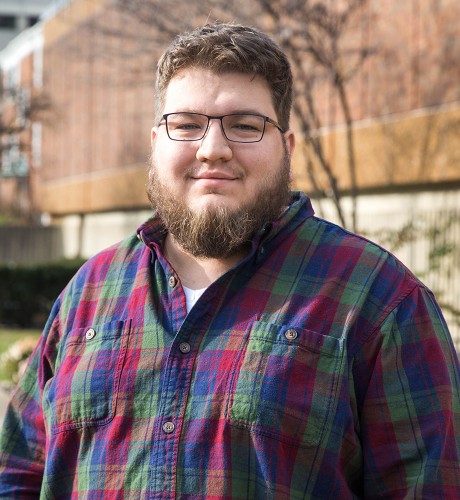 Zach's his name, troubleshooting's his game. This Network Specialist was pulled into our unit from ASC, as part of MITS, and now works with COTC and CFAES (all the acronyms). This former stagehand found his calling in Communication Technology Management; he enjoys the ever-changing field of technology that offers him constant learning opportunities. Outside of TNC you may find him playing games at home (video and board) or enjoying some Nashville-style grub at Hot Chicken Takeover.
Q: What is your role at the university? I am a Network Specialist on the Enterprise Networking Team within the Office of the Chief Information Officer. My duties include assisting in day-to-day functionality of the campus network, as well as troubleshooting issues. Lately, I have been focusing on the configuration and deployment of new equipment that we are using to transition customers to OSULAN services on the Newark and COTC campuses as well as the CFAES extension sites.
Q: How long have you worked at Ohio State? I have been working full time for two and a half years. I started in the College of Arts and Sciences as a student, and then after graduating transitioned to a Network and Security Engineer within ASC. As part of MITS, I got the opportunity to move over to OCIO under their Enterprise Networking Team where I have been for the last year and a half as a Network Specialist.
Q: Have you worked on any large projects since you've been here? Coming over from the College of Arts and Sciences, I have had the opportunity to work on some really interesting projects. So far, I have assisted in some of the transition of ASC networking duties and network equipment configurations. Currently I am heading up COTC network upgrades as well as assisting with the CFAES extension site network upgrades.
Q: What does a typical day look like for you? My typical day starts with checking my email from the night before and planning out what I am going to be working on that day by importance. Having my hands on many projects, I have to figure out where my time is best suited for current scheduling. Usually, I spend a few hours in the morning working on configurations for new equipment for the CFAES extension sites. Then my favorite part of the day, Lunch! After lunch, I usually spend some time looking at other projects on my plate; currently this is the library firewall management migrations. My day-to-day can always vary especially when an incident might come in about an issue that takes priority as well as any requests we may receive. This is what my typical slow day looks like when I get the chance to focus more on projects.
Q: What do you like best about your job? What I like best about my job is that there is always something new to learn. Technology is a field that is constantly changing and improving and offers opportunities for advancement or pivoting to new areas of technology in the future.
Q: What was your very first job? My first job was working as a stagehand in the Theatre Department at the OSU Lima campus. It came about when I started taking a stage lighting class out of interest. As part of the course, we were required to put some time in outside of class to get further hands-on experience and assist in that quarter (we all remember these before semesters right?). I worked so much more than needed since it was something that I was genuinely interested in, that I was offered the opportunity to work for the rest of the year, before transferring down to Columbus Campus.
Q: Where did you go to college? Right here at The Ohio State University. I came to the university wanting to be a Computer Science and Engineering major but found that wasn't exactly what I wanted to be doing. I ultimately found my fit in the School of Communication as a New Media and Communication Major. I focused specifically on Communication Technology Management, which included lots of IT organizational strategy and management skills. Go Bucks!
Q. What do you do for fun outside of work? Do you have any hobbies? Outside of work, I enjoy playing video games with friends and watching TV. When I am wanting to learn some new things that may or may not pertain to my day-to-day responsibilities, I like to work on new solutions in my home lab.
Q: Favorite place to eat in Columbus? Easily my favorite place to eat in Columbus is Hot Chicken Takeover.
Q: Best concert you've ever been to? This past spring I had the opportunity to go to a music festival I have been wanting to attend since 2012. It's a three-day electronic dance music festival in Miami called Ultra Music Festival. It kicks off the festival season here in the US and is located on the beautiful Bayfront Park in downtown Miami. My favorite DJ set from that weekend was by far the mainstage performance by my favorite Producer/DJ Armin van Buuren.
Q: Do you have a favorite book or movie? TRON: Legacy! I've seen it more than a few times (30+) at this point. I just love the story and CGI that Disney managed to work into the movie after not having another TRON film since the original in 1982.
Q: It's 9 p.m. on a Saturday. What are you doing? Usually, I would be playing video games with my fiancée and our friends or hosting a board game night at our place. Each weekend can vary, but this is what my typical Saturday looks like to unwind from the work week and prepare for the next.