Employee Spotlight
August 2019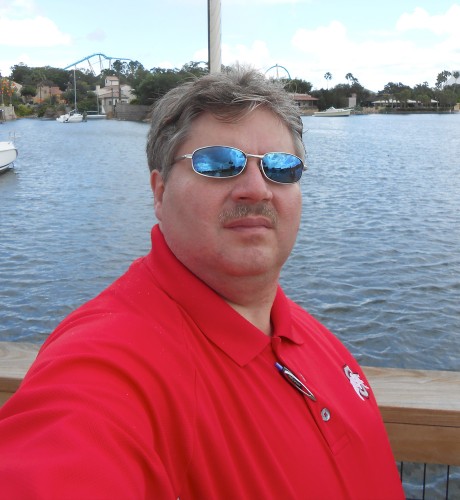 Meet Steve, an Endpoint Engineer. Between Newark and Columbus, he's spent nearly 10 years with The Ohio State University. This former teacher and self-proclaimed geek loves to tinker and patch devices to keep the university secure. He also enjoys the flexibility our unit offers to balance his work and his personal health. Outside of working hours, you might find Steve planning a trip to the Caymans or a motorcycle ride through town.
Q: What is your role at the university? I am an Endpoint Engineer with the OCIO.
Q: How long have you worked at Ohio State? I worked for 8 years with COTC/Ohio State Newark and 1 and a half years for the OCIO.
Q: Have you worked on any large projects since you've been here? I worked to bring Newark Campus and COTC into the OCIO as Managed IT Services (MITS) customers.
Q: What does a typical day look like for you? Right now, I am recovering from a bone marrow transplant from February and the doctors and my supervisor have agreed to let me work from home as I recover. I spend most of my day finding computers that have not been patched, and I deploy the needed updates so we stay secure.
Q: What do you like best about your job? I have always loved tinkering with technology, so this job lets me do that.
Q: Did you always know this is what you wanted to do as a career? I wanted to be a High School History teacher. I did teach school for eight years. Two of those years were in the Cayman Islands, two were in Cincinnati and the last four I was also the principal in Southern Indiana.
Q. How did your career path bring you to work for us? I have always been a geek and worked in IT for both The Longaberger Company and Genesis Hospital.
Q: Where did you go to college? God's Bible School & College in Cincinnati
Q: Where are you from originally? Crooksville, OH
Q: What is your favorite place to visit? Grand Cayman
Q: Can you tell us about your family? I have two sons who live in Florida. The oldest, Nathan, teaches both high school and college classes. My youngest, Joel, was married last year. He teaches high school classes and his wife Kendra will be teaching kindergarten this fall.
Q. What do you do for fun outside of work? I have a motorcycle and I enjoy riding it. I also used to be an avid book reader, but now I enjoy listening to audio books. I usually finish one a week! My favorite authors are Joel Rosenberg, Vince Flynn, Brad Thor, Tom Clancy and James Patterson.
Q: It's 9 p.m. on a Saturday. What are you doing? If the weather is nice, planning a motorcycle ride